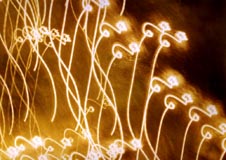 journal archive
1999-2010:


september 30 2009 - may 18 2010

ottawa retrospective
maybe writing a graphic novel
montreal, end of tour
starting to draw chapter 3
old photos
snow globes
sylvester stallone in a bank
glittery clitory
past life piano
wisdom teeth at sundance
yours faithfully
starting to shoot chapter 3
slowmotionblur
disastro
we are the world
san francisco

may 6 2009 - september 21 2009

falling into a ravine
starting work on chapter three
"an evening with don hertzfeldt" 2009:
bonnaroo, edinburgh, london, paris
recording vocals for wisdom teeth
maybe writing a graphic novel
the subconscious and the writing process,
dreams and robert louis stevenson
the death of mozart
fires and collapsed plants
snowmen
old lily and jim feature screenplay
sad window poodle
a dream of lost fogged photos
shooting wisdom teeth
g-t-f-ohhh
"My palace is something that the gay will notice"

october 2 2008 - may 2 2009

"evening with don hertzfeldt" tour 2008:
santa barbara, portland, seattle
austin, calgary, chicago, missouri, omaha
atlanta, new york, denver, los angeles
proud at sundance 2009
why i don't want to do ads
the passing of time is just an illusion
"the sound of tires in the snow"
animating wisdom teeth
special michigan screening
a dream of ewoks and possums
pelicans


january 29 2008 - september 23 2008

finishing proud
final sound mix
plant applause
ten baby spiders
sparrow nests
end of the world
proud production photos
depression and burn out
kauai
proud sound and editing
a tennis shoe, filled with leaves
cliff tube dream
oh, oh, oh.
finishing proud photography

april 11 2007 - january 15 2008

animating and shooting proud
do not bend or fold
old photos
austin
beautiful car crash
ok on DVD
atlanta
seen in a parking lot
portland
proud production photos
a stupid commercial
space shuttle dream
rewriting the ending to proud
precognition
a thing for tv maybe

january 17 2007 - april 9 2007

everything will be ok at sundance
"animation show" 2007 tour:
seattle, austin
animating i am so proud of you
electroshocks and camera trouble


january 11 2006 - january 14 2007

bitter films dvd production
ok editing
burbank motels
ok narration
school field dream
seal dream
hypothermia fever
ridiculous amount of work
waffle cereal
hiking skull island
jaw pops out
bathtub death dream and snail
more spam poetry
comic con
finishing ok
talking to oneself
deserted department store
black demon
awake for 39 hours

march 7 2005 - december 27 2005

"animation show" 2005 tour:
sf/berkeley, detroit, austin
designing everything will be ok
abomination
animating and shooting ok
bitter films dvd production
old film restoration
life-size postmen and demon puppies
summer's here
hollywood motels
rochester event
murder dreams
philosophy and time

september 7 2004 - february 28 2005

higher forces are conspiring
barely finishing the meaning of life:
final sound mixing, editing, special effects
elephant carcasses
sundance 2005
endless soundtrack remixing
LA gallery show
"animation show" 2005 tour:
LA, seattle, vancouver
formidable sunning lizards
fan art
multi pronged

february 4 2004 - august 26 2004

experimental effects
disappearing people
pencil test trouble
jaw disorder
endless photography
edit, animate, rewrite
a new ending
aspen
no sleep
restoring billy's balloon
camera malfunction
spam poetry
star photography

august 22 2003 - january 2004

animating flying animals
black prosthetic feet
around the clock
"animation show" 2003 tour:
seattle, portland, milwaukee, SF, LA
NYC, boulder, minneapolis, santa fe

january 26 - august 9 2003

outer space photography
production of show trilogy
shock and awe
missing plant
dreams, sleep, work
in the ocean
"animation show" 2003 premiere

september 6 2002 - january 1 2003

the meaning of life still in production
drunken new year idiot
juggling projects at once
cartoon network rejects rejected
new film starts photography
bad sleep cycles
skin eaty fungus and bad dreams
the fate of the universe

march 16 - august 23, 2002

the meaning of life in production
anesthetics book
sweating apartment
studio junk
lusty plants
increased anxiety

december 30 - march 5, 2002

television censors
bootlegs
home surgery
"don n bill show"
scary neighbors
chuck jones
miniature insects

september 2 - december 11, 2001

making the rejected dvd
unearthing spanky
bad poetry
memphis
a day at the beach
new camera
production never ends

july 19 - august 24, 2001

tattoos
animating the meaning of life
time and space and life
fear of fire
bleary production

june 9 - july 10, 2001

work work work
paper veins
production paranoia
bootlegs

april 9 - may 24, 2001

the meaning of life in production
cereal lies
antibiotics

march 10 - march 27, 2001

oscar prep
don losing his voice
rob vs. kenneth branagh
bow tie maintenance
oscar recovery

february 14 - march 3, 2001

academy award nomination
out of control spike n mike shows
local film fest and gasoline
happy animation industry ranting

january 21 - january 29, 2001

daily entries from
rejected at sundance

december 31 - january 14, 2001

dentist, broken car
animating the meaning of life
soundtracks
off to sundance

november 8 - december 15, 2000

animating the meaning of life
production report from rob
happy video clips
amnesia daze of road
work, work, work

august 29 - october 25, 2000

animating the meaning of life
burnt out
olympic fever
story from rob
happy video clips
barking spoons
travel
gas mask guy

june 21 - august 9, 2000

finalizing rejected
vocal recording the meaning of life
a story
happy video clips
comic convention
premiere of rejected
very old drawing pads

march 29 - may 31, 2000

memphis
production reports from rob
rejected final sound mixes
rejected last minute edits
reincarnation and embyro defects
broken car
computer virus
happy video clips

january 9 - march 22, 2000

rejected editing
rejected sound recording
giant baby eye
rejected sound mixing
don in a panic

december 3 - january 4, 2000

OCD people on tv
new years story
roberto
old photographs
big tumors
editing rejected

october 30 - november 28, 1999

gas mask guy
conjoined twins
roberto
meteors and rare moons
building the animation studio

september 28 - october 19, 1999

fish astronaut, spooky dream, death
more death
rejected art finished
cat brain, bad interview,
jack in the box woman
bad computer

august 3 - september 17, 1999

building the animation studio
animating rejected
old photograph
broken oven
rob in LA
pretty moon
a toast

june 7 - july 22, 1999

billy's balloon in cannes
animating rejected
broken car and dreams
high fever, corpse museums, death
retarded children's clothing

march 31 - may 17, 1999

shopping list story
animating rejected
judging in texas
sad runover squirrel
off to cannes

march 17 - march 24, 1999




read more about this sort of thing in the interviews section






return to
front page
|
|
|
|
|
|
|
|
|
|
|
|
|
|
|
|
|
|
|
|
|
|
|
|
|
|
|
|
|
|
|
|
|
|
|
|
|
|
|
|
|
|
|
|
|
|
|
|
|
|
|
|
|
|
|
|
|
|
|
|
|
|
|
|
|
|
|
|
|
|
|
|
|
|
|
|
|
|
|
|
|
|
|
|
|
|
|
|
|
|
|
|
|
|
|
|
|
|
|
|
|
|
|
|
|
|
|
|
|
|
|
|
|
|
|
|
|
|
|
|
|
|
|
|
|
|
|
|
|
|
|
|
|
|
|
|
|
|
|
|
|
|
|
|
|
|
|
|
|
|
|
|
|
|
|
|
|
|
|
|
|
|
|
|
|
|
|
|
|
|
|
|
|
|
|
|
|
|
|
|
|
|
|
|
|
|
|
|
|
|
|
|
|
|
|
|
|
|
|
|
|
|
|
|
|
|
|
|
|
|
|
|
|
|
|
|
|
|
|
|
|
|
|
|
|
|
|
|
|
|
|
|
|
|
|
|
|
|
|
|
|
|
|
|
|
|
|
|
|
|
|
|
|
|
|
|
|
|
|
|
|
|
|
|
|
|
|
|
|
|
|
|
|
|
|
|
|
|
|
|
|
|
|
|
|
|
|
|
|
|
|
|
|
|
|
|
|
|
---------------------------------------------------------
| | |
| --- | --- |
| don's journal | |
march 14 2017 i dreamt i was interviewing a wealthy eccentric who collected the corpses of civil war soldiers, exhumed from forgotten battlefields. he was one of only a handful of people in the world who shared this controversial hobby and he stored the bodies in a very large wooden cabinet with long drawers. the only question i could think to ask him was if there was any issue with the smell in his house, or if the bodies had long ago dried out and mummified, to which he gave me a wry smile.

i'm over twenty minutes now into animating the new short and seeing the light now. i would guess just a month or two left of this, a couple weeks of fixes and edits, and then maybe another month or two of sound. i'm still not entirely sure of what i have here... i've been avoiding watching very much of the film over the last couple of years of working on it, for two reasons... one, i didn't want to get stuck in an fussy cycle of repairing things, but to plow straight to the end before looking back. and two, my computer is actually too slow now to be able to play back more than one or two scenes in a row anyway without choking to death. the visuals have just gotten too complicated for it. so i haven't actually seen the movie i've been working on yet other than in chunks, which is unusual but fine. i think it also probably plays in its favor, as by default i assume the whole thing is a disaster and always needs to be desperately improved, making me worry and push harder, as truly good scenes from many months ago slip from my memory. lately i'm getting a little concerned that i'm staring down the barrel of another short film that looks like it might be my longest yet... now that i'm animating the final scenes i'm weirdly fighting an instinct to hurry it along and rush us out of there to cut down that running time.

well this has been the longest gap in this journal in 10 or so years, and to my surprise it's been truly aggravating. not writing on a regular basis, even just dumb nonsense in here, does something awful inside. keeping a regular discipline of putting words down, anything, really seems to act as some sort of regular brain-reset calibration: here i am, this is what i've been doing, ok then, ok then, ok then. it is also so necessary for my bad memory to have some record of where all this time is going, aside from what's on the movie screen.. although often it is going almost nowhere else but on the screen. my soul feels tired, like right in the center of the sternum, but i am ready to come up for air and get this finished and then spend a lot of time doing nothing but reading a stack of books that have been growing

june 26 i'm eight minutes deep now into animating the next thing, which has been bothering me lately, the scenes are looking fine but they're not connecting for me yet and i still feel like i'm figuring out just what it's all actually "about". it was getting a little demoralizing again last week as i realized i was getting absolutely no joy in making it, feeling very mechanical and detached to work on every day, and the fact that it is very complicated on a technical level is no help... but today i started attacking from a new angle and finally added some music in and like magical glue things are feeling a little better. every day i return to it and hope, maybe this time this will feel fun again.

midway across the pacific ocean our plane filled with smoke and turned back to san francisco for a suspenseful emergency landing. nice try, death. we were a bit rattled and it was nice to finally get to the island, where we found the night sky was so dark we could see satellites pass overhead. tokyo was everything we had dreamt about and after the oscars i found myself back in santa barbara to do a brief talk at my old school. for the first time since i moved out, i mustered the will to drive back to my old street, the identical concrete block apartment buildings where nobody said hello, and i felt a weird panic and depression begin to rise when i drove past, amazed that nothing had changed there over all this time, everything looked the same, amazed that i had somehow managed to spend so much time, much of it sad, in that place. later, we found a chunk of coral on the beach fused together in the uncanny shape of a human heart. i had a dream a month or two ago about people cloning themselves, able to create a twin, but their human nature failed them and they simply forced their twins to do menial tasks and treated them terribly.

we've shipped over half a ton of blu-rays so far and over the many months of hauling boxes to the 24 hour post office drop box in the middle of the night i began to notice a homeless guy sheltering in the end of the building. he was always in the same place every night, sitting motionless on a bench, his shoes and the edges of his pants the only thing visible to me from around his corner, probably not daring to make a sound as i dumped my packages into the drop boxes, afraid that maybe i would rat him out. so every night i would pretend not to know he was there so he wouldn't worry about it, and then i would drive home with my empty boxes wondering what he thought about sitting on that bench all alone, night after night, in an empty air conditioned building surrounded by silence and white walls.

june 22 i have a strangely specific childhood memory of floating in the air... hovering over a specific corner of my parents yard on a sunny day
june 20 "it is possible that what i want doesn't exist."
june 13 spent most of the day compositing a shot, five minutes before bed thought of a better idea for it
june 11 "just wind him up and he walks away into the abyss"
april 28 the koyaanisqatsi soundtrack is blowing my cat's mind

january 22
we're flying tomorrow to molokai for a week, then on to tokyo for a week, and then los angeles for the oscar nominee luncheon. so my suitcase includes snorkel gear, a snow parka, and formal wear, and security will probably just think i'm an insane person going to oklahoma.
january 12 2016
earlier today felt like it ought to be later and now it feels like it ought to be earlier. for the first evening in many weeks tonight i've had the time to sit down and just read a book. due to all the blu-ray work, the months have been flying by too fast at an incredibly slow rate. you know? i did get to see winona again over the holidays, she is 6 now and she cheats at cards. we did some more recording but i haven't listened to any of it yet. the blu-ray collection is looking absolutely stunning, and i mean that with no hyperbole or exaggeration, these films are looking better than i've ever seen them, but my god what a time hole. so it will be immensely satisfying to finish and get out into the world and then get back to animating something new. i have a few more things to patch up and take care of and then will be traveling to tokyo and hawaii at the end of the month. also oscar nominations will be announced in two days but we are not really going to think about that are we?

october 25 i really never thought i'd be doing this but i've been playing around in the stock market and have become weirdly fascinated and i can't believe this sort of thing is legal. i feel like a true sociopath but i'm making a lot of money. it is a giant strategy board game, just a very sleazy one. it's been raining a lot and the weather has finally turned cold again for the year and you can open the windows and sleep while listening to wind chimes outside and the cats are walking around all wet.

most of the blu-ray content has just been sent to the authoring house. all that's left now is getting to work on the 4k "rejected" and "meaning of life." maybe a month for that? the depth available in those frames is incredible. and then back to work on the new and exciting things.

i'm also going to see my niece again in a couple of months, she's 6 now. i might do more recording. i also have a lot of audio of her from age 5 and she already sounded a lot different then. i wonder if this is all going to turn into some sort of "boyhood" serial in space.

fantastic fest happened here in town last month and "world of tomorrow" was paired with "anomalisa" and i spent some time with charlie kaufman & duke johnson. wonderful people and a wonderful film. seek it out if you can. very human. the film, i mean. well, them too.

october 12
hi sorry i've been away. there's not really so much to report. you know when you're on a really, really long flight and you find yourself staring at the back of the seat in front of you for so long that you no longer really read the words "fasten seat belt while seated" anymore? this is where i am at with the words, "rendering video..." and the tedium of color correcting all this stuff for the blu-ray. it is all looking great, the last couple months have just been so similar they seem to have flashed by at a high rate of speed and suddenly it's october.

september 30 "art is the merger of the living and the dead"

august 28 been making a blu-ray. which means packaging, color correction, menu designs and more... lately the "more" has been detective work, tracking down missing elements from film vaults that have long-since closed and surrendered their contents to mysterious third parties. i have successfully located the original IN and IP of "the meaning of life" and returned them home, somehow they'd been lost for ten years and we only had the original camera negative in storage... all of the materials for the three little "animation show" cartoons remain weirdly, totally missing. yesterday i polished up a short teaser that will appear on the disc for the next film, and i guess i can't wait to get back to work on it because the teaser successfully got me all excited for it. i think a solid couple more months of blu work and then back to animating. we are doing archival 4K scans for "rejected" and "the meaning of life" next which will most likely require quite a lot of restoration work on my end and i think that is really the largest chore remaining.

august 27
"There is something beautiful in the lines made by people who stopped drawing a long time ago. And there is something curious about how scared they are when I ask them to draw a car... What usually happens is a kind of involuntary laughing that sounds like the laughing of people who are about to enter a spookhouse ride -- just how scary is this ride going to get? Your car begins to take shape and the shape it takes seems out of your control -- there is a thrill there. And a terror too that becomes especially evident when I ask people to stand up and look at each other's drawings. All we did was draw a car but the room feels like it's on fire. Why? Some of the cars are quite far-out and some are barely there, like phantoms made of ghost lines. Others are more certain - and some seem to feel their way in. The same thing happens when I ask them to draw Batman. Sometimes someone knows just how to do it -- but mostly they are not sure of the way but because they only have a very limited amount of time to do it, 'thinking it over' doesn't come into play and a natural kind of picture comes about. And sometimes we say this kind of picture looks like a kid drew it. And people are dismayed by this and even ashamed enough to destroy the picture - get rid of it - immediately. But what if the way kids draw -- that kind of line that we call "childish" -- what if that is what a line looks like when someone is having an experience by hand? A live wire! There is an aliveness in these drawings that can't be faked, and when I look at them, that aliveness seems to come into me. I'm glad to see and feel them. Real aliveness of line is hard to come by when someone learns to draw -- to render --it's the first thing that goes -- the aliveness. And it's what some artists spend their whole lives trying to get back. The spookhouse and the merry-go-round are two different rides. When we say a kind of drawing is good, we may be talking about a certain kind of ride everyone can stand and understand -- though the thrill is gone, it's nice: a ride on the merry-go-round... And then there is that other ride... The spookhouse, the one with all the not-knowing that scares and delights us to bits -- to little bits of line that are the tracks we traveled on while screaming and laughing because we have no way to control the outcome - and we are in motion anyway, creating some kind of energy that still runs through the drawing even after we've lifted out hand away." - Lynda Barry, Syllabus

august 4 i should probably be asleep by now

july 30 the night is thick

july 16 we reached our entire blu-ray / film restoration crowdfunding goal in only six hours which means finally being able to REPLACE EVERYONE W/ TALKING CG ANIMALS AS ORIGINALLY INTENDED

july 7 2015 i have a special visitor coming to town in two days to record vocals for something i have not finished writing yet. there are maybe one or two pieces still missing and i'm also a bit concerned the whole thing might be headache-inducing to watch... the one thing that has happened every single time i've rewritten anything is, simplify. combine this, cut that, simplify. it's always better. i'm not sure i've ever gotten into a rewrite thinking, this needs to be more complicated. i have a few minutes of animation finished now for it and yet it still doesn't really feel like i've started.
the week in vienna was fun but sleepless (there is a trend here). i'm covered in mysterious bruises so i must have had a good time. i went to a museum with very old pianos and to the prater amusement park which has several amazing old spook houses where lopsided taildragging animatronic dinosaurs yell at you in german, lit under purple and green lights. in the art museum is a giant egyptian foot. and it says, we dont know where this foot came from. we suspect it was part of a bigger statue. it was easy to forget that clubs and bars don't close in europe at 2am and on closing night there was a big fun dance party with champagne and beer and more champagne and champagne and then i realized oh the sun is coming up and i have to be on a plane very soon. i thought about postponing the flight to rest but decided to gut it out and powered through the 16 hour itinerary floating through the endless security lanes and customs checks and crumpling into an airplane corner next to the big fat guy in a little chair who took off his shoes and socks. back at home and finally in bed, i dream of phantom people from another dimension who were trying to make contact. this old guy had studied them his entire life and explained there were not demons, not aliens, but something else. something that was reaching out to us. and then i physically felt, in bed, a hand grab my arm and yank me a couple feet across the mattress, waking me instantly.

june 10 the other day i impaled my foot on broken glass and saved a miniature frog (unrelated events)

may 28
introduced the retrospective at the austrian film museum last night in my best german:
"good evening.
how are things?
today we go to movies.
hertzfeldt.
very good.
very elegant.
stars.
angst.
angst over there.
big spoons."

may 24 i am in bed, listening to things dripping
may 23
somehow i'm sleeping even worse. or maybe i just don't need eight hours anymore. is that a thing that happens when you get older? i sort of roll around in bed now and just get up after while. i'm about two minutes into animating this new thing. it's looking pretty good though i feel a lot more uninspired and slow than i did when animating last year... or maybe it's just how i remember it. my head seems more cluttered with distractions, my arms feel heavy, the shots are perhaps more (too?) complicated. i guess it's just a very restless spring. tomorrow i'm headed to vienna for a retrospective, we are showing everything across three nights in original formats, and then i am looking forward to having a quiet summer back at home.... draw, swim, hammock... and hopefully sleep

may 19
now playing: superheroes flying through office buildings
coming soon: superheroes flying through office buildings

may 18 today's fortune: your grandfather is menstruating on a giant bat and everything is on fire

may 16
i'm ok, working, but much too slowly, sort of bored a lot. kind of looking forward to upcoming europe trip, kind of not. the lazy float down the river summer hasn't started yet, it's been pouring rain here for weeks. i feel like i'm waiting for the other shoe to drop... how are you?

may 4 late at night in a nice suburban house a pale miniature dinosaur writhes across a living room floor as if receiving invisible electric shock

april 27
i more or less spent the month doing "world of tomorrow" interviews and then headed to the tribeca film fest to serve on the jury, a good time and i even got used to being repeatedly told, "i'm sorry sir but these seats are for the jury only." i got remarkably little sleep all week, festival stuff at night and running around the city all day, reka was too excited every morning to stay in the hotel room or let me sleep in, i could hear her bouncing on her bed every morning desperate to get out and see the city. the last night there we just drank bourbon and i didnt sleep at all because i had an early flight so what was the point, and today even though i finally got to bed last night, i feel like i am finally paying for the week. i am sort of catching up on things around the house, but slowly, and on all fours. monty python was in new york and it is wonderful and getting a bit more wistful to see them on the same stage again, they did a thing there for the 40th anniversary of holy grail and michael palin and terry gilliam were actually wandering my hotel lobby the morning i left, but i was too shy and tired to say anything, just sat there with my luggage half-watching gilliam walk around staring at his phone in what seemed like a bad mood. also in new york i stole a fork that looks like a fish. i finally got to meet up with gabrielle bell and we retreated to an odd spanish bullfighting themed bar with reka and richard mcguire and passed around gabrielle's sketchbook taking turns filling in pages. and i realized how unusual and rare and great it is for me to actually spend time with another cartoonist, let alone three of them.

march 3 i've been writing something new, in short fits and bursts, and now i think it's going to work out. i've been sort of swimming on the cusp of ideas these last couple weeks, that itchy area where you feel constantly restless and maybe vaguely crazy, with something turning around in your head that you just can't quite spit out to paper yet. i started putting some pages together last night though and it's starting to get interesting. meanwhile we're releasing a clip from "world of tomorrow" next week and starting to get publicity moving forward. i almost never agree to doing interviews live or even on the phone anymore, i've learned something strange: even with the best of intentions, just about every live interview i've ever done has come out with at least one sentence in the transcript that's the exact opposite of what was said. if i said, "the cat is black," it would be printed as, "the cat is not black." and that gets really old after so many years, but what i think is more interesting from this, and maybe even a bit alarming and sort of sad, is how often everyone must misunderstand each other all the time in everyday conversation, misheard sentences and opposite interpretations regularly going unnoticed and unchecked. how messy our brains are. meanwhile, i still can't sleep.

february 19
ive not been sleeping well at all again and the other night had this dream i've had before where i am having to pull dozens of super long needles from the bottoms of my feet, some of them all thick and rusty. i had raging insomnia at sundance last month too and it keeps recurring, at night my head is just on fire. also the other night i wrote down this note and then went back to sleep: "jealous of a murderous dog."
"world of tomorrow" had a great run at sundance though, it seems to be the most audience-pleasing thing i've done in years. i was, and still am, very concerned about keeping its expectations in check, and approached the premiere as low-key as possible. like most things, it plays best when it takes you by surprise, you don't need to hit people over the head with it or poison the well with a bunch of preconceived notions and stuff. i only released a single photo of it anywhere, and we had zero posters or fanfare at sundance. the critics were incredibly kind and then it won the grand prize. a few days ago i reluctantly cut a trailer for its upcoming digital release. trailers for short films are kind of absurd in general, i mean come on, it's already a short, but we have to show something so people know what it is, bla bla bla, so i tried to at least make it as vague and simple as possible again so nothing could be spoiled. the trailer views went through the roof and things got very buzzy again and a few critics who'd found it at sundance all wrote, generously, that it was "the best science fiction film in years!" and then another outlet picked up that thread and added, "some are saying WORLD OF TOMORROW will be the best science fiction film of 2015, better than even the next STAR WARS!", and the day after that another outlet shared the trailer with the headline, and i'm not kidding, "is WORLD OF TOMORROW better than STAR WARS?!" and i've been staring at that headline, thinking about how this has somehow all become a perfect satire of somebody trying to keep expectations in check. now the short film is "one of the most anticipated films of the year." and i do really appreciate it, truly, but let's please lower those expectations way down again and maybe just compare it instead to that one "star trek" movie where scotty walks into a wall. it is maybe better than that one.

also at sundance i tried skiing for the first time and did pretty good until i was taken to the top of the mountain where i fell off of it and had to eat snow to survive

january 15, 2015
the sun finally came out today and i am suddenly wallowing in interviews and emails. sundance starts next week and the film plays opening night and i bought a new suitcase, a horrible shade of blue but 50% off. it took a couple of weeks of weird color trial and error, but the DCP for "world of tomorrow" looks and sounds beautiful now, and suddenly i am in a rare canyon of days with very little left work to do but wait. i have a large stack of books and want to start writing again. i'm not sure how long the wait on the new feature film will last. lately i feel like i am not really present.
december 15
lately i've been finding these little frogs at the bottom of the swimming pool. they're not more than an inch long and just lay there, belly up and motionless. when i fish them out, sometimes they are dead and sometimes they are suddenly alive. they look a bit stunned, as stunned as a frog could look i guess, and after a moment they slowly amble away into the leaf litter as though they have seen something important. i can only guess that their little arms eventually become exhausted of paddling and they enter some sort of emergency amphibious underwater hibernation period as they sink to the bottom? what does it feel like? what goes through their heads?

update! i've learned that these are probably little leopard frogs and they are trying to hibernate underwater for the winter. they must be so mad that i keep taking them out.

november 23
"world of tomorrow" premieres soon and i am still patching it up while juggling travel plans and sudden film festival needs... a festival overseas asked for a dialogue list to translate and i somehow lost the file that had the script in it but was able to just sit down and type out every line of dialogue for them from memory because i've watched it fifty thousand times by now :\
it's been raining and thundering for days and when i came home yesterday after my first few hours of the film's 5.1 mix, the cat, drenched, ran to the front door and made the most miserable noise i have ever heard, like rahhhrrrwrrrhhhhh

november 16 i dreamt we went to hawaii. when we got there, the bus to the hotel drove underwater through a lake and then there was a very long line to check in.
october 17 this evening smells very specific
october 15
it's one of the first cold nights of the year and the neighborhood smells like laundry. as i left the house for a walk just now, suddenly seeing it from the street struck me as deeply sad... that everything i do and worry about inside of it is paralyzingly small, meaningless, empty, wasteful. then i walked to the train tracks with the red lights, looked at the stars, and marveled at how everyone else's lawn looks better than mine. i am almost done with all of the sound work except for the fine tuning and mix. i can't believe putting it all together only took about a week.

october 8 2014
i started sound and music work on this thing just yesterday and am so far having a blast... i think the picture is locked, the pace feels right. at times the film feels light to me, like a nice dessert or something, and then i think wait a second this isn't really that light at all. anyway, instead of starting the sound edit at the beginning and just trudging through chronologically as usual, i've been working on whatever scenes i feel like first and building it all instead as a patchwork, which feels great and hopefully keeps the scenes from getting smothered. i am also trying to promise myself to keep the soundtrack simple this time, less is more, i tend to get swept away with the sound edits and create walls of complicated stuff, and i will probably eventually do the exact same here but it is fun to pretend that i won't. there is a lot of dialogue in this and really the main thing i need to remember is to keep the focus there, and only lean on music when the scenes are bad, haha.

speaking of overly complicated sound edits, my guest appearance on "the simpsons" aired last week after nine months of keeping it a secret! my ipad was beeping incessantly with alerts for about three days after, until i had to just give up. i was invited to do something for the show in january, coincidentally only one or two weeks after i got this cintiq for another project, and was still learning how to use it. i think i came up with the idea a few days later and was working on it already by the end of that month.

there is something strange about the simpsons that i've always wondered about... it's a 26 year old show that seems to always be set in the current day, yet none of the characters ever age and they usually refer to past episodes as past events in their lives. do the children have memories of events from twenty years ago? but while they don't age, they do evolve... they've changed a lot over the years from the way they were first drawn in season 1. so that was where i wanted to start... what happens when the longest running show on tv just never ends?

the regular simpsons team drew the opening 20 seconds of homer on the couch while i tackled its edit and sound design, and from there the two minute opening, really a short film, was produced entirely here in austin. the short was 99% digital, aside from a couple of 35mm outtakes from "it's such a beautiful day." this was also somehow the first thing i've ever directed in widescreen (!!?). i even played the piano bit at the end of the piece, which i was weirdly proud of. and did all of my own stunts except for the fire jump out of the building. everyone at the simpsons was wonderful... i e-mailed them a somewhat vague pitch, probably three paragraphs, and they just let me run off with it from there, even when i went thirty seconds over. no disagreements or compromises along the way, really the only obstacle was just filling out all the union tv paperwork for doing the voices and music. all tv work is like this, right? .....right?

i think i edited and re-edited that short, fast sequence of homer's head exploding into memories as he looks out the window more than anything else i've done. i don't know if that's true but it feels like it.

september 29 i feel like my soul is trying to exit through the top of my head

september 25 sometime this weekend i'll probably finish work on remaining new scenes and be able to shift focus to fine-tuning, locking picture, and building up the sound mix. running time hovering around 15 minutes. at least three shots have been total do-overs. also i can't believe i've made another short film. i will be completing it from start to finish in record time, but it still really all takes too long. didn't i say i was done with these?
the other night i had to take a sleeping pill and maybe twenty minutes later i was still laying there, conscious, but my jaw was moving entirely on its own, gently sliding teeth over teeth and occasionally tapping them together in specific weird patterns. i couldn't control or stop it and could even stick a finger into my mouth to feel it happening.

september 24
fantastic fest is going on here in austin and the movies are good but the people are disappointing to me... everyone seems overly stressed with projecting an image that they are seeing the most films, having the best time, going to the best parties, a twittering mob of people-brands, people who don't have conversations with you, standing in line with noses in phones, desperately broadcasting how much fun they are having.

september 23 is the world sadder than it was twenty years ago?
september 15 finished animating the final shot of this thing but now need to go back and redo the beginning and middle

september 10
the "that is," story synopsis. found in every film festival program ever:
"_____ is a _____ _____. That is, until ____ _____ _____ _____."

september 7
i have a hazy childhood memory of floating in the air about twenty feet above my parents' backyard, some sunny afternoon. i don't know why

august 30 i am remarkably depressed tonight, wow
august 29 i think i am going to need to undo the last 2-3 days of work. it looks ok but i don't think i was trusting the material enough and made something needlessly complicated. either that or because i am animating the final scenes of this whole thing i am starting to get a little jumpy. i think it is well over 13 minutes now. the last few weeks have been a blur of work and boring routine. i don't really need to be working this fast on this, but i'm not really doing anything else right now so i guess why not. it is just strange to see the time go

august 26 i am listening to mihcel jiskcon (sp?)

august 25 "care about other people's approval and you will only be their prisoner."

august 16 creatures are running across the roof. right over my bed

august 11 i was driving home from the sound mix, stuck in traffic on a rare rainy summer day here, gray and strange, when the radio djs announced the news about robin williams' suicide. they were incredulous about it at first so i didn't believe it either, but they began to play a series of sad songs, and in between the songs they would return with more news and it started to sink in that it wasn't a hoax and they continued playing sad songs and i sat there stuck in the car looking at the gray rain.

august 10
i have a 5.1 mixdown session scheduled for tomorrow and meanwhile just crossed eleven minutes into animating this other thing. i dream of travel almost every night.

august 4
"can you believe the new girl was listening birds? i asked her what the hell are this birds? and she said listening birds raise productivity"

july 29 during my skype meeting today the cat walked around the house and threw up everywhere he could as i sat there watching helplessly
july 21
big announcement! i am once again not going to be anywhere near the san diego comic con. ok that is all

july 6
i spent the week in mexico, where the skies on the beaches of tulum are filled with more stars than i've ever seen, so dark and clear you can see the ribbons of the milky way spilling across them. we stumbled in the dark and drank on the shore each night watching them like tv, the division between the ocean and the sky invisible and black except for a tiny, perpetual lightning storm hundreds of miles out to sea, shimmering every night to the north east

june 18
most of the movies you'll see in your life you'll only see once. you will just spend 90 minutes in the dark with it, yet probably still be able to have a conversation about it with a stranger ten years later. the time you spend with your favorite films, even ones you might watch every year or so, is also incredibly fleeting compared to the time in between visits, when the films live only in your head, turning around and around, assimilating and evolving. when we rewatch a film, we're usually surprised to find scenes that are staged dramatically different from how we remember them... even scenes we don't remember at all. we might be surprised to find the film is generally better now than we remember, or maybe worse. and yet that "wrong" memory of the movie, the clumsy, flickering impression of it that we've been replaying in our heads for years after our 90 minutes, the basic subjective essence of it, is the version we'll spend the most time with. this is a very different thing from your favorite beatles song or a painting on your wall.... art that is intended for more regular, direct repeat consumption, art that does not exist primarily in memory.

june 17 another month has come and gone and i am now over eight minutes into animating project #2. in my 20s i used to not mind devoting all these identical, forgettable days working on stuff... in late 30s it is starting to feel wasteful and more urgent. i am not very good at anything else. but i am afraid i will one day emerge from work to find i am suddenly old, forgotten and useless

in other news i'm closing the online shop at the end of the month. i don't know, probably permanently. our first shop opened in 2001, this version in 2005, and everyone's support has directly funded every film in between. but it's become a lot less necessary these days - which is very good news obviously - and i've been too short on time to keep stuff in there new or interesting. so, new direction... tear down, migrate, rebuild.

june 16
when you are dead in 100 years, nobody will look at your biography and think, what kind of car did he drive? how much stuff did she own?
june 5
"love bade me welcome, yet my soul drew back, guilty of dust and sin." may 29 today will be better than yesterday
may 28 godzilla was barely in the movie and when it wasn't about those monkey turtle bats he was all fat and sleepy.
may 21 it feels like it might storm tonight and a deep throated creature is making noises miles away
may 22 "the feel of the experience is the important thing, not the ability to verbalize or analyze it." - stanley kubrick

m,ay 20 when i was little i had a nightmare of a moose coming through my window. just the head and long neck, sort of looking around, all demanding.
may 20 "teetering bulbs of dread and dream"

may 19
i finished the heavy lifting on the shorter project about a month ago and moved back into work on this other one. right now i am in a sea of endless lip sync animation, mouths mouths mouths, when i watch people talk in real life now they all seem two frames out of sync. i think things are getting done but i can truly no longer tell the days apart. the weather is beautiful and boring. i need a shave and a haircut and i look like a monster. i eat, i play piano, i draw. i lose patience watching films, i have been shutting things off after 20 minutes, my head fried and empty. i bought a hammock and sometimes wrap myself in it like a hanging burrito.

may 17?
i made this haiku out of my friend's day:
i am suffering
at dawn i fed a peacock
an empanada

may 13 i've just reached that early stage in production where i get really depressed and think, oh god what have i done? there is so much work to do
may 12 it was hot today and the cat seemed miserable so i plugged in a little fan next to him and he gave me a really annoyed look and got up and left
may 1 few people know that skeletor's first name is paul
april 24 there are smashed strawberries in the parking lot and a dog is barking over and over
april 22"there are no new ideas" is the shield of people who have no ideas.
april 21 "my mother had a special ability to throw saliva with her mouth shut and i didn't know that."
april 8
late night in the supermarket, a chubby nerdy guy stocks the cereal shelves with a sullen punky teenaged girl as that 867-5309 song plays. and he turns to her and says, i wonder what would happen, ha, if somebody actually CALLED that number, ha ha. and she says, i don't know, venomously.
april 6
"at night...there is nothing to moderate the blow which the infinitely great, the stellar universe, strikes down upon the infinitely little"
"they were oppressed with the presence of a vastness they could not cope with even as an idea, and which hung about them like a nightmare"
april 4
the night is full of junebugs, they bonk into your head and buzz at all angles like drunk little rocks. we couldn't figure out why there were so many of them all over the yard this year so i looked it up and it says they are attracted to weeds and i said, oh.
march 20
i'm about 70 seconds into a rough first pass on this little project i can't tell you about, but this one is an interesting creature because it's somehow the first time, bizarrely, that i find myself tasked with delivering something under a given running time. everything i've ever done has always been sort of the length it was, just because it was whatever the length it was. so i've been measuring seconds closer than usual and trying to keep every moment disciplined, finding a way to cram all of this information in under the wire, which is a good exercise anyway, and have been really kind of amazed at just how much information can be stuffed into one minute. i am now deep into the stage of not leaving the house or seeing other human beings for days again, having long conversations with the cat, feeding myself becoming as routine as feeding him, the computer room trash mostly filled with granola bar wrappers. which is fine but for that old feeling of days endlessly on repeat and time somehow vanishing away in great lost waves. i saw someone at sxsw whom i hadn't seen in exactly a year and he said, "don! you're WASTING AWAY." which i will take as a compliment. i should be able to clear this little thing out of the way for the others in another month or two, maybe, but it keeps growing.

why can we never remember the first few moments of falling asleep? why do we get insomnia if we think about sleeping? what is sleep trying to hide?

march 13 there are now too many amazing tv shows, films, books, and games to ever catch up on. things need to start sucking again so i can ignore them

march 12 you will never again be as young as you are today

february 28
i've been having no trouble continuing to animate for hours on end lately, but early sound editing is making me flounder around the house looking for snacks every 15 minutes

february 18 sleep has been a problem lately. i think when you stay up working past a certain hour, the adrenaline kicks in and then you're really stuck. and for whatever reason, trying to fall asleep is when my most depressing, hopeless, horrible thoughts all come out on parade. by day my head is in blinders and i've already charged through almost five minutes of animation, which is amazing to think about, but the days are going by in fast forward. the backyard has died because it's winter and i always let the backyard go dry in winter but this year it seems more neglected and shameful than usual.
i wrote this really late at night a weeks ago intending to put it in here and then i forgot. now it seems like someone else wrote it:
"are humans fundamentally evil? thousands of years of torture, slavery, genocide, racism, religious persecution, wars, pollution, careless mass extinctions of countless of other species... what good have humans done to each other or the world to counterbalance all of this history? is it even possible? ....why do we need laws? is it because without them it is human nature to lie, cheat, steal, etc?"
i guess those are meant to be final exam questions? last month i flew to baltimore to visit my grandpa for his 100th birthday. the first time i saw the retirement community place it seemed really active and cheerful, but returning over the years you begin to notice how absolutely nothing has changed there: the wallpaper, the carpets, the indifferent hotelroom art in the hallways that nobody looks at, even the plastic plants perched on communal tables are exactly the same as they were a decade ago, every detail surrounding the people who live there firmly rooted in time since the 1960s. and i couldn't tell if this was all by intention or laziness by the people who run the place, but it seemed crushingly sad to imagine looking at all the same faded pink decor and sagging rec room furniture every day, knowing that it will outlive you, and the next person who lives in your room, and the next. also, it was a big mistake to arrange for the 100 old woman to jump out of the birthday cake.

february 3
last night i dreamt, as an aside, that i had large and muscular calves and a couple of times people would remark on them and ask what my workout was that would make my calves get so big but the rest of my legs stay the same and i'd get sad and say i don't know. i'm still animating at a very high speed every day, it is mostly a lot of fun though time is now moving very fast and i'm lately feeling very little in life.
when i used to animate on paper, i'd have to clumsily penciltest at the wrong framerate on videotape, go shoot it, get the film back, telecine it, get the files to have a look, and if the sequence looked good enough i'd just move on. it would usually take too much time and effort to fix the animation and reshoot unless something was really, really wrong in there. the bigger picture was more important. now with this new technique i suddenly have the amazing ability to obsess over and pick at every little nuance of movement like a superhuman asshole.
january 14 2014 for the last week ive been experimenting heavily with digital animation and after 19 years of paper and film, i've found learning all of this to be a lot like trying to read a children's book in a foreign language. also after maybe being hit in the head twice with a shovel. the first few days were weirdly both extremely easy and extremely aggravating... i tried out two popular programs and hated both of them before settling on a third. the things that used to be hard are now very simple - i'm able to draw and finish scenes now at a blazing speed - while things that used to be simple, like just coloring something in with a textured crayon, are suddenly upside-down and horrible. but i've been getting into a groove and enjoying discovering that i can animate for much longer sittings at a time without getting arm pain or a stiff neck and suddenly i am firing away every night past 5am and not seeing many other humans and have already completed over thirty seconds of this thing that sort of came out of nowhere. meanwhile, a third secret project that i cannot possibly turn down has just made itself known, all while the very large other film also starts pre-production. i've not worked on three things at once like this before but i sort of feel like a kid in a candy store. it's going to be a busy year and i look forward to disappointing you in three entirely new ways

december 13 2013 while continuing to wait for the feature film to take its first steps, about two weeks ago while painting a bedroom a few ideas started to latch together and i began to develop a small thing on the side to keep me from getting bored.... i wrote about half of it in the next few days and it continues to grow. it might be good for me to have something to work on, and if this gets made it needs to be done fast, cheap, and with minimal fuss. the weather has been freezing all month, unseasonably so, and there have been lots of fireplace board game nights and beer that tastes like gingerbread.

"the end of the world" is here and it is glittery and strange. the book's cover has gold foil printed on it and every time a new box of them is unwrapped, gold dust flutters everywhere. for some reason during production i was worrying about the book being too bulky like some ostentatious coffee table art book thing, but for the first time in my hands it now seems more like a weird little hardcover children's picture book. i think while making it i only ever physically held it with the proof pages printed single-sided only, and that dumbly attached itself in my head to always picturing it twice as thick. i'm not sure if anyone will like this thing but it sure looks pretty.

december 12
"You won't sleep
very much tonight.
When you do, you'll fall asleep
with strange fish all around you."

november 25 a flashy opening scene immediately followed by, "___ days / weeks / months earlier...." is the most horrible screenwriting trend in years. it's in almost every film now. i can't avoid it.

november 20 "Baffin went ashore to take the distance of the Portuguese fort and received a shot into his belly, wherewith he gave three leaps and died immediately."
november 18 this product review is also the opening sentence to your next novel: "The coat rack began to tilt after eight months."

october 29
"the end of the world" is being published in december, bringing to a close the strangest creative exercise i have been a part of and i'm a little surprised it's finally going to be released at all. the very first scraps of it showed up in 2003, and for maybe one week out of each of the following few years i'd remember it, stare at it from different angles, add a new thing or two, wonder what on earth i was doing, throw it back into the sea, and return to whatever film i was making. until this year, i think the longest time spent on it in one sitting was a couple of months in 2009 when i revised everything significantly and added several new sections... before abandoning it all again.
it was growing into a place for all the spare parts that didn't work in any of the films to trickle down into... and in the other direction, often a place to steal things from. at one point someone says, "dad, no, wait, the bike's still chained to the truck," a line appearing in "wisdom teeth" in 2010, but actually written for "the end of the world" the year before. there are even moments written many years ago for the book that are finding their way into projects not even released yet.
so while the book does not represent ten years of work by any stretch of the imaginaton, it does represent ten years of buried ideas: homeless scenes, dead ends, stories too strange to tell elsewhere, things drawn in the dark and soon forgotten. it was an enormous non-linear puzzle of stuff to finally try and shape into something legible, in the early years more mood piece than anything, then a sort-of narrative surfacing enough to chip away at, and in 2009, a main character. i threw out enough content from the now-216-page book to fill another book the same size, added significant sections to it only a few months ago, and was still rearranging the order of everything only a few weeks ago.
if the films were albums, i guess these would be the b-sides. reading it all back now, i have as many memories of creating it over the years as i have memory gaps... so many lonely late night sparks in santa barbara when i needed a break to do anything but animate. it is sad and jazzy, occasionally much funnier than it maybe deserves to be, and reminds me of something sort of lost and ghostly that i can't quite put my finger on

october 28
things people say to me around town:
are you in line?
excuse me
excuse me are you in line?
come on man get up off the floor
is he in line?

october 24
i forgot the word for dishwasher and thought, it's time to run the kitchen laundry
october 21
i have a heavy cold that seems to have shut down parts of my head and made me a better piano player. it is very peaceful

october 15 so.... here we are, with another day
september 29
had to drive across town early this morning and spotted a small middle aged woman quietly going through the trash of the strip club, her children playing obliviously nearby, and had a sudden memory of one of the few faces i remember from santa barbara, oddly, a skinny old asian man i'd see almost daily wearing a gigantic sun hat and surgical mask hunting through the neighborhood dumpsters with a four foot pole in search of cans and bottles, whenever he'd pass you in the parking lot he'd say, "HI!" in sort of a proud shout

september 28
ive added a strange little prologue to the new screenplay and i think i like it but i'm not sure yet. it's still the calm before the storm of preproduction so i have been wandering around shooting handguns, rowing kayaks, and riding bikes. i found myself in a very empty acapulco last month, stormy deserted beaches with riptides that swallowed my sunglasses, people are too afraid to travel there now because of all the crazy gang violence but i only saw one guy get killed with machetes in the restaurant.
there is thunder right now and the cat has flown under the bed
also i want to release an album called "flinching in the darkness" but i'm not sure what would be on it

august 11 this dumb cat keeps throwing up on the white carpet and i yell and he goes to a corner and looks sad and then i feel sad and then we're both sad

august 9
i was in guanajuato last week where we drunkenly salsa danced with strange women every night, battled raging insomnia, climbed down a secret graveyard staircase to view a gallery of corpses at midnight, had my jacket stolen, ate like pigs, found films on dvd that don't exist, swam in the sun within white cave walls, drank strange things on the side of the road, and lost my glasses in the mud of an underground laser tunnel party, trampled by a thousand people. not in that order. i did not see any films at the film festival. but i did an OK job answering questions after my own. at the end of it all i extended my trip for three more days without knowing where i was to stay, without a flight home, or any way of seeing objects at a distance. sometimes this sort of thing needs to happen. i found "song of the south" in a bootleg dvd shop but was disappointed to learn it was dubbed. drunkenly watching him sing "zip a lee looo laaaaah" in out of sync spanish late at night in a mexican hotel room is a unique experience and i had a sad vision of the end of the world. i came home to friends from out of town aNd an immediate birthday party where i woke up to find the little mermaid's pinata head impaled on a pike in the backyard. in the night it slowly spins in circles. it's been hard to settle back into quietly working again after all this but i'm almost through with this book thing and am able to push it a little further each day. but mainly it's just strange to be back. also mexico travel tip: if you don't speak spanish, mezcal and mescaline are two very different things to ask for

july 14 "the act of killing" is an amazing documentary that's going into limited release this summer. find it if you can

"her flesh was the colour of rough concrete"
july 13 hi, sorry i've been away. it looks like the new feature film will be taking its first big steps forward into previsualization and preproduction in just a couple of months and i'm now beginning to feel that old familiar exciting blend of suspicion and dread. while waiting for all the details to be worked out with funding, ive been polishing up and finally finishing this book thing that has been floating around for so many years i can't even remember anymore. it may be released before the end of the year. "book" is a word i use very loosely here. this all sounds like it's been a busy summer so far but really ive just been floating around in the backyard and reading books and looking at this cat sit around in different rooms.
the other day i visited the harry ransom center here in austin and uncovered some buried treasure in their archives, heaps of original edward gorey manuscripts, notes, and sketches. i took a few pictures on the fly

july 11
in regards to ants: it is not their fault that they are ants

july 2
movies, please stop beginning with a scene that's immediately followed by, "____ months earlier..."

june 16
bonnaroo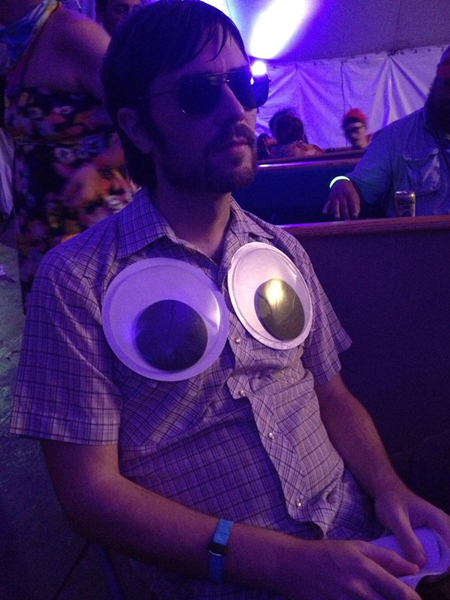 the best places to eat while on the road are those in which your menu is a placemat
may 29
"they are females in the morning and become males at night. their method of pollination is unknown. some sort of beetle is suspected."
may 15 right before you die you will be feeling really terrible
SKREEEEEEEEEEE
may 14 from now on this journal will be nothing but complimentary sound effects. please note, they are royalty-free but may not be used commerically.
SMANGGG!
AROOOOOOOG
BADANG BADANG
may 9 a cat will be sitting on something you want to read
may 8 there are fireflies
may 7 have a drink tonight for ray harryhausen, whose name on a film made it required viewing may 2013
some creature landed on the roof the other night and tore out several tiles. i'm not sure to what purpose as it seems to have given up once it reached the wood of the house and tomorrow i will climb up there and try to patch things up. it is warm and summery again and there are fireflies and swimming and the cat throws up a lot.
i've been trying to train myself better at the piano but i will never be able to play this difficult chopin piece as it ought to sound. i am just good enough to know i will never be good enough.
going to give the script another run through the wringer this week. we're at a strange stage right now where the movie has already potentially landed good producers and finances, surprisingly quickly, but with nobody quite knowing yet how exactly to proceed... the picture is so unusual i think everyone involved will experience quite a learning curve.
"it's such a beautiful day" had a really great opening in london this month, the uk critics were incredibly kind and bestowed an unusual amount of national coverage to what was basically a one-site screening... so its run has been extended and now also spreading out to other spots in the uk. if we'd had that kind of press support in every city on the US tour i would probably still be out on the road with it, getting fat and handsome in a las vegas sort of way.
a few weeks ago the national film board of canada asked me to do a short little thing to help promote their upcoming app, a tribute to norman mclaren than simulates his scratch on film process. the app has little needle and razorblade tools that i sort of fingerpainted with on an ipad over the course of a couple days. i'm not sure how i feel about the result but the ipad has been sorta fun to scribble around with in general, i've never drawn on a tablet before. haven't tried with a stylus yet. sadly, i think animating so much over the years has pounded a lot of the joy of drawing out of me... the thought of picking up a pencil and paper to draw something is a bit stressful now. in fact lately i think you can probably sense a lot of the stress in the lines. but scrawling little things on a tablet with my fingers feels like a bit of a vacation somehow. in my usual 20th century style i am the last person to learn about these things
before i forget, next month i will be returning to the bonaroo music festival to show some things in the cinema tent saturday afternoon. paul mccartney has graciously agreed to open for me with a set on friday night.
april 30 a bald child with shit in his pants shall toddle over your grave, oblivious as your head bursts apart with insects below
april 29 after watching "that's so raven" did people used to go, "ha ha ha, that was SO raven"
april 28 there was a grey spirit outside your window this morning making this face :< before disappearing forever
april 27 good morning! today you have little dog feet
april 26 "unwanted life-changing spiritual experiences"
april 23
kool tip: forgot your laptop charger? a laptop can be recharged on wind power by swinging it around violently in the air
april 21 "sleep, those little slices of death. how i loathe them."
i think i'm finally going to dust off and finish this graphic novel that is not really a graphic novel. it has been on and off the shelf for ages, i think the earliest primitive bits came around in 2003 and as i worked on the films over the next decade i would half-heartedly add or subtract until i'd give up on it again. but i have the time and the patience for it now, and i think i know what to do
it's been interesting to draw this thing without being able to use sound or movement or editing. a film is the least immediate way to tell a story, drawing thousands of pictures in slow motion over years, but it is the most immediate way to experience one. a comic book is the most immediate way to tell a story, draw it once and it's done, but it is the least immediate way to experience one.
april 20 on tuesday, everyone on the planet will turn 47 years old
april 19 you will pull a weed from the driveway and have a sudden, jolting memory of your sister margaret, who you haven't seen in twelve years
april 17 if you have a dog, he will momentarily turn into david bowie at 4:30. if you do not have a dog, you really should have gotten a dog
april 12 in 100 years, crime scene photographs of your murder will be sold in coffee table art books
april 10 most people from the future are not alive yet except for walter and xarrefnof
april 9 balloons are the offspring of ghosts and tires
april 5 eventually someone will paint over the walls of your house, wondering what you were thinking
april 5 i am going to try and return to the drawing desk today if i can remove this cat from the chair
march 29 the new screenplay is done. mostly.
march 28 the moon is enormous and the night smells of play-doh
march 21
devouring more research and trying to enrich this script before a self-imposed april 1 deadline. rewriting is always a strange thing, you will do something good and get quite excited, and the next morning feel like it's still a big depressing mess, do another good thing and get excited, later decide it's still a depressing mess, and repeat daily. all the while knowing that the version of the script you'll have in another month will put this one to shame but later, in turn, be in itself, a big depressing mess. but i'm at the point now where a few more rounds of this will straighten it up, give it a lunchbox, and at least allow it to be ready to wander out the front door and be read by people who are not me.
sara is crashing in the guest room indefinitely and when she goes to work in the morning it is quite strange and suddenly feels like everyone is off to school and i am sitting at home sick or something. even though it's just like all my other days alone here it feels odd to be left behind now and i have to remind myself what it is that i actually do. the guest room also needs a new bed in there and i think i might get a racecar bed so in the middle of the night i could go SCREEECH and run in the room and throw a cat and ketchup all over the walls and turn the bed over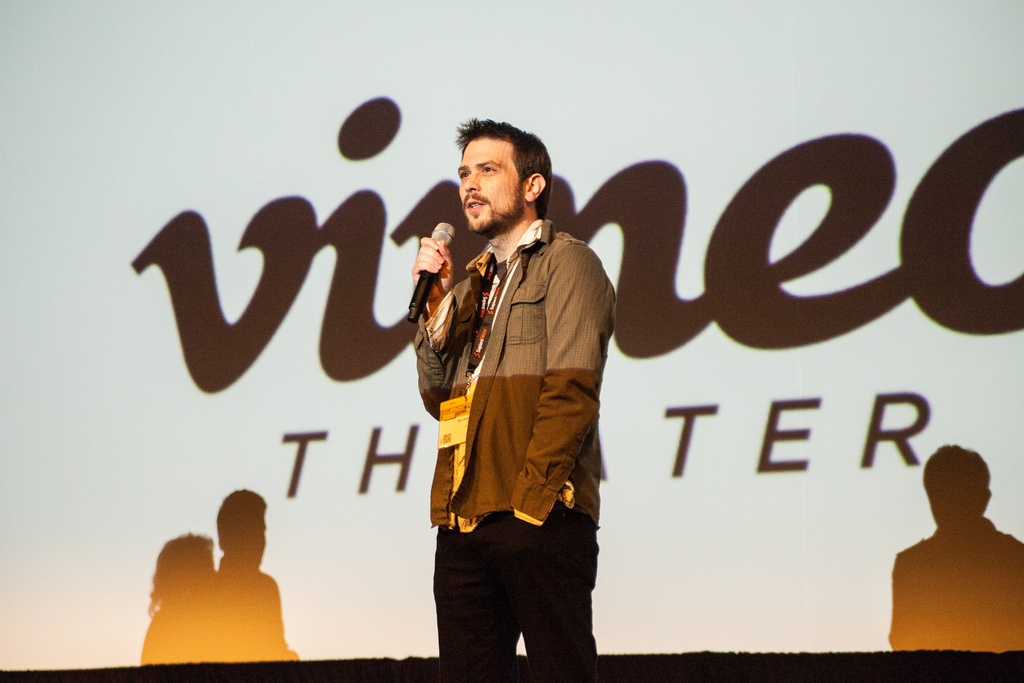 march 16
"matonabbee loved women and had extra wives scattered all over the northland, each one renamed "martin", for what reason we do not know."
february 17 just heard a country singer in a bbq restaurant introduce leonard cohen's hallelujah as, "this here's a kid's song from that movie shrek."
the other night i dreamt i had a second row of four teeth in front of my bottom row that were bleeding, damaged, and peeling away from my jaw from clenching my mouth too tight at night and i was staying at president obama's vacation home and asked him if he knew of an emergency late-night dentist and he said, "read a book."
february 5 i've been feeling pretty great again, sundance came around at the right time. it was a nice to be there without a movie to worry about for a change, but to just be there to hate on stuff. did that come out wrong? i also had a really promising early meeting in town for a long-gestating project i'm hoping to get rolling this year, and it felt like a solid first shot in the arm. aside from this, the year so far has mostly been spent painting walls in the house and thinking about writing but not actually getting back to it yet.
C: time spent creating things is never time wasted
even if it's just for two people
D: what if it's creating bombs
for two people
to bomb two people
C: you're an asshole
january 30 trying to compile a top 10 list of amazing criterion collection films for their website. then i sat in the sun to pet a cat and it was better than all of them
january 21 day 7 in park city and the idea of exiting a door without taking 3 minutes to layer, bundle, wrap, and zip is now totally alien to me. our final jury deliberations are tonight and unfortunately last night i made some poor adult decisions and may be deliberating from the floor
january 16 should i take a shower? every time i'm in a hotel room i'm like hmmm, FREE SHOWER.
january 15
sundance was kind enough to fly me out 1st class. and on the plane i was actually much less afraid of flying because i figured if the plane was going to crash, at least i was going to crash in 1st class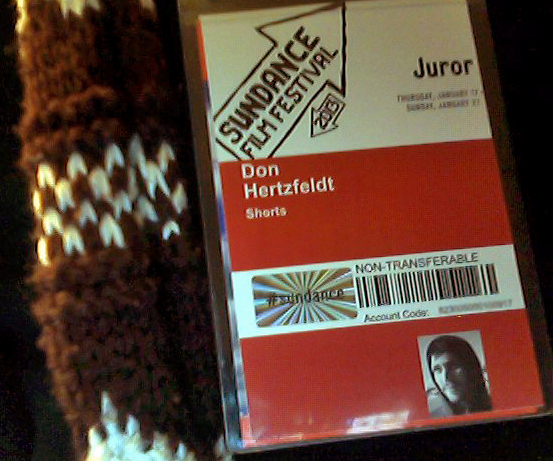 january 10 2013
it's been raining a lot and you have to wear thermals to bed. i can't remember the last time i've been in a rut for this long. (thermals unrelated). i also can't remember very much in general, time is moving very fast lately and i haven't been filling it with enough. i am often having to remind myself of what my interests even are. i'm headed back to sundance next week to serve on the awards jury for the first time which will be a good change of scene and when i come home i'm going to paint more rooms in the house i guess and hopefully get impressed with something enough to take the next step with it. current inexplicable television commercial: a sweating idiot on a hot day in the city plucks the sun out of the sky and throws it like a baseball into a traffic tunnel, where it turns into a magical frosty snowing beer train. there are many projects lined up for me to choose from and settle on but still none of them are screaming at me.
thanks to all the critics who've cheered for "it's such a beautiful day" these last couple months, the LA film critics association, the folks at the av club, indiewire, etc. the feature film has been turning up on lots of end of the year top ten lists among all the big shots and it's all been very kind
the holidays 2012
uncle! play jingle bells on piano!
(plays jingle bells)
i need jingle bells again please!
(plays jingle bells)
you play jingle bells again now!
(plays jingle bells)
uncle i need jingle bells again now please!
december 7
my ear has been ringing sort of on and off at different volumes for about a month. someone keeps calling my ear. i've seen a pair of concerts lately but they didn't seem to be excessively loud or anything. this morning i woke up too early and it was ringing louder than it ever has and was so noisy i couldn't go back to sleep. i'm not sure what to make of this but i hope it doesn't get worse
UPDATE: the ringing in my ear has just been replaced by "girls just wanna have fun" on an endless loop
november 29 i can't tell but i might have an ear infection? if you choose to rub my ears tonight do not place your fingers in your mouth afterward
november 18 "he had so much pride he wore iron boots, and walked on everyone's faces."
november 15 2012
i have a handful of projects in front of me to possibly work on but they all seem to be floating underwater in slow motion and i'm not feeling a great urgency towards any of them yet. i have been sleeping for 9-10 hours every night, the weather has turned very cold very suddenly and i am still sort of feeling the same as last week
"it's such a beautiful day" did not even advance beyond the first round of voting for animated short at the academy awards this year, which will officially close the book with a clean-sweep 0 for 3 shutout of all the bill films at the oscars. CONSISTENCY. these voting screenings are incredibly heartbreaking to attend even when you don't have a film in the running. voters watch 6-7 hours of shorts in a row and openly heckle the ones they don't like and by the end of the day your head is numb mush and you begin to feel like you are no longer watching cartoons but just experiencing strange daffy duck hallucinations. there's also a system where everyone is given a little flashlight, and for any film that is longer than 10 minutes, a little red light turns on in the theater at every 6 minute interval. and if you want to shut it off and throw the film out, you hold up your flashlight and if a majority of lights are counted, the film is immediately killed: among the casualties this year was a 30 minute film that was shut off after 6 minutes. it's protocol that if your own film is playing, you have to leave the theater and wait for it to conclude before returning... years ago, upon returning to my seat during the end credits of "the meaning of life," an old guy yelled out, "BULLSHIT!" and i knew at that moment the film was doomed. this year, with a 23 minute short, i was more concerned that they wouldn't even make it to the ending, and i stood alone in the empty theater lobby next to a display case of harpo marx's jacket and props, putting my ear to the door every 6 minutes to listen if it was even still playing. a prominent disney animator walked out on it after 3 minutes. they didn't shut it off, but with the scores they wound up giving it i guess they may as well have
november 14
in high school, when we played volleyball in the gym for P.E. we were allowed to bring cassettes to play over the P.A. system. this one jock bully guy had a queen tape that he played constantly and rocked out to, with air guitar. one day i brought in an R.E.M. tape and played that. the next day in front of everyone he angrily asked, "who brought that tape yesterday?? man, don't bring in such FAG music." and he put in his queen tape again
november 12
if i am ever stuck in an elevator and "crocodile rock" is playing on an endless loop i will eat the faces of everyone else in there with me
november 8
maybe i'm coming down with something. i'm still feeling sort of empty and at one point today both my ears were ringing and the inside of my head was sort of making this wooosh noise. all i can seem to do are boring chores that require minimal thought.
it is november now, which means it's almost easter and of course that means it's time for the easter eel. children have already begun to dress in kelp, in hopes of attracting the easter eel to their neighborhood. the easter eel hides leathery egg sacs filled with chocolate across the land. happy easter, kids! NOW RUN, HERE COMES THE EEL
november 7 in the "genre" box on the online film festival entry form i think i accidentally checked "erotic" :\
november 5 the sky, at present, is beautiful.
i've coined a new phrase. example: "i can't believe they've been on only 1 date and he's already boxed her corn." i don't know what it means
"jeff and tom have been friends for over ten years, but jeff's only just now gotten around to boxing his corn."
november 3 pick up and start again
november 2 2012
i've heard that when greyhounds retire, after spending their whole youth racing at the dog tracks, they become monstrous couch potatoes. you can never get them to race again, and you practically have to drag them outside just to take a walk. lately i feel like a retired greyhound. i dusted off an old project from the shelf today and have been doing a bit of drawing for it, probably the first time in several months i've drawn anything at all, and i'm finding it very difficult to get interested in drawing a single thing. i'll make a few stabs and get up and do something else, make a few more stabs, drop the pencil and leave again. i think i like this project again, it's feeling loose and weird and unpolished and i want it to stay that way, the writing is fine, but i don't have the least bit of interest in drawing anything at all and the simplest thing feels like a massive chore. i wonder if after a hundred thousand pages of animation i've reached my hand's lifetime drawing-things limit
october 30 "apparently they are very rare, and useless"
october 29
the new dvd's been done for about a week now and i've had very little to do. over the years i've grown so used to leaping straight from one thing into the next... since i'm not doing another short next, having nothing to get to work on has been strange and unfortunately not so great. i feel like a dog waiting around anxiously for an owner to come home. day to day i'm not sure what to do. it is hard to be normal. i guess i'm going to clean the house and start painting some rooms. i cut my hair too short and now i look like a bat.
october 24
when a person with an artificial heart dies, how do they turn off the heart? does it keep beating until the autopsy?
october 20 someone very hairy stayed in this hotel room before me
october 19 descending into LA tonight we broke through weird swirly clouds that were illuminated by the city lights below, milky green and orange
october 14 the number one comic strip in germany is garfeldt. he really, really hates montags.
october 3 in the UK, walking out of a horror film, do people ever say "it was just so bloody bloody"
october 2 i was in the grocery store and my shopping cart had a big yellow sign on it that said "low prices on board." then somebody walked by and said, "he has low prices on board."
september 27
creating the texts for all the close-captions on the new DVD. it's times like these when i have to write out, "the lion king slippers scream horribly" that i really wonder what the hell i've been doing
strange but true: what are commonly mistaken for tapeworms emerging from a cat's bottom are in fact miniature scrolls, which, when unwound, will reveal a little message from your cat
september 26
the new dvd won't let me finish it, for weeks i have been obsessively fine-tuning to get every color just right in the hd masters while hunting down inexplicable gamma shift after gamma shift... re-rendering, re-exporting, re-testing. it is sort of amazing that no matter how careful you are, weird little one-point brightness and saturation shifts are maddeningly inevitable at every turn of this process, transcoding, down-converting, and i've been trying to overcompensate a bit one way for one inevitable shift, compensating colors the other way for the next, trying to get everything to look just right on every monitor, fixing, fixing, fixing. and so then tonight i hear that "it's such a beautiful day" has just won the grand prix at the "linoleum" festival of animation and contemporary art in moscow, where they have been accidentally screening our murky, pixelated blurry rough cut DVD, with editorial time-code burned across the bottom of the green-tinted, cropped frame.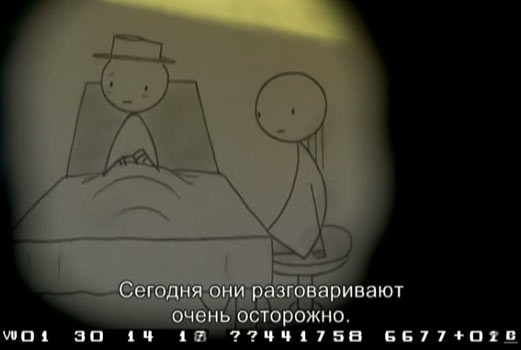 and then my head exploded.

the feature film version of "it's such a beautiful day" has also been making the theatrical rounds now and i've been finding myself more or less babysitting computers through most of the days... some festivals still want 35mm, but many now want the short in blu-ray, or the short in quicktime, or the feature in blu-ray, or the feature in quicktime, or the version of the feature with the additional material in quicktime, but with this codec, or the same but in PAL, and it is a never-ending cycle of exporting and burning and shipping and keeping track of it all. i think the picture looks fine digitally projected though i am having to get used to some new drawbacks... i've just heard that the first screening of the feature film in los angeles ended when bill stands there staring at his rental car, with keys in his hand: the blu-ray inexplicably skipped forward ten minutes from there, straight into the end credits, and most of the audience just sort of got up and shuffled out disappointed before anyone knew what had gone wrong.

ive been watching a really great bbc documentary about early human development, where they demonstrate through dna tests how everyone on the planet alive today who is not a black african is directly descended from a single tribe of people who successfully migrated out of africa 70,000 years ago. just one group of only a few hundred people wound up producing everybody else, every asian, european, eurasian, south american, who ever lived. 10% of everybody in europe alone can be traced back to the genes of just a single unknown prehistoric woman. everyone is african and everyone is intensely related. it is staggering to think how massively critical every small thing this handful of people did must have been... who happened to be attracted to who, who wandered in the right direction to go seed half of india, one of them gets a flu and half the planet does not exist.

this box of weird pita chips next to me has scattered images of little single pita chips printed on it in random spots and in the corner of my eye i keep thinking they're bugs and have to stop myself from swatting at it. 100,000 years later, a giant lumbering box of pita chips, grazing in a marsh, flinches uncontrollably every time a branch above its head sways in the breeze

september 17 i am doing an AMA today at reddit. "reddit" sounds like it could be a trendy awful new baby name. say it with a southern accent like you're calling for someone. "reddit, git yer dang fingers out of the chitlins!"

september 14 is it bad that this cat likes to eat scotch tape? like, three rolls so far?

september 8 of the two cats who think they live here, one is very easy to please doing cat things and is always happy go lucky. he seems to understand that he is a cat and he knows his role. the other is very moody and he seems to be slightly smarter, and slightly older. he seems to understand that he is a cat and it makes him sad because he does not want to be a cat.
tonight i heard a clicking in the house and found a click-bug hanging in the air, stuck in a spider web. he just hung there clicking helplessly, for what seemed like hours

september 3 the nicest bugs come out latest at night. little hovering green things

august 31 there is a halo around the moon tonight
august 30 i think only a few days more and my work on remastering everything for the dvd will be done. in the deepest pit of it a few days ago i very nearly accidentally released everything in mono. whoops. i miss the sun
august 27 ten days ago i dreamt i was in the army. and in the army we mostly played with toy wooden trains on battlefields. those brio ones with the magnet connectors on each side. with great focus, me and my team connected toy trains really long and were commended for it. this work was somehow very important. there was war and carnage all around, meanwhile. a few nights later i dreamt there is a new planet that has drifted extremely close to earth. so close that in certain areas a few cars float in the air, stuck between the gravitational pulls of the two worlds. at the nearest point on this other planet, some christian scientists have built a massive, cool-looking building with giant animatronic statues out front, called the museum of energy. i go to visit it with my mom and when you get there you realize it was constructed at a weird perspective, so it would only look cool from viewing it from the earth. inside we realize it is just a massive boring antique store and tourist trap. i also remember i'd even been there before. my mom pets their giant antique store cat and i am bored.

august 21
unfortunate film festival jury bio: "Nancy Denney-Phelps is a journalist writing about European animation and festivals as well as a prod."

august 20
somewhere, late at night during the darkest hour, a tired animator is walking around the block again

august 13 the olympics officially close, in explosion of shit and noise

august 12
so here's what's going on. we've been booking a bunch of theaters for all three chapters of IT'S SUCH A BEAUTIFUL DAY to make their debut in this fall, newly edited together, as a seamless feature film. the first screening of this is actually only in a week or two and i've been feverishly trying to get everything ready in time, as well as uh, find ways to pad the feature film running time a bit. i've also added that new shot to the very beginning and given it a new title card and new end credits to fit this new form and it all seems to work ok. the feature film version of the entire trilogy is gonna be called IT'S SUCH A BEAUTIFUL DAY, same title as the third chapter, to make things as confusing as possible. have also just whipped up a very simple new theater lobby poster for this. meanwhile, the big new DVD, quite related, should be ready to pre-order around the beginning of september. ok i think that's everything. the summer is going by too fast.

i have been immensely depressed. it might be from turning on the tv but i don't know. thunderstorms forecast tonight

august 10 just like that, all the cicadas have stopped singing. they must be gone now for the season and the sudden silence outside is strange and a little eerie. i watched a prometheus making-of thing. did you know charlize theron is operated by 12 puppeteers?
i've decided to try a second career, as a fortune-teller. please let me know how many of these are accurate: https://twitter.com/FREE_FORTUNES

august 7
i dreamt i tried to impress someone by casually picking up a little framed picture and scrutinizing the back of it. the dvd packaging is finished, the menus and extra stuff are finished, but the actual movies are somehow still unfinished. the remastering job is still crawling in the mud on its belly, staring at colors and dirt and colors and colors and then putting its head in the mud again, but i have given myself the deadline of finishing it all up by the end of this week. my job description over the last few weeks could accurately be described as, "struggling over tiny little things nobody will ever notice"

at some point on my birthday we hung a batman pinata in the front yard and attacked it with a tennis racquet. batman's head was still hanging from the tree the next morning and from a distance it sort of looked like i was the victim of a hate crime. because i like the neighbor cat that hangs out here so much i was given a birthday cake in his shape. i don't even know these neighbors and i was thinking how strange for them to ever learn we ate their cat in effigy after hanging a black figure from my tree.

i am depressed that on surveys i am no longer in the 25-35 age bracket. the 36-49 bracket is completely terrible. i also seem to be gaining weight. i can't get my arms around my front so i use a stick to hit the keyboard

august 4 i had no idea that pringles are actually compressed human ashes

august 2 write your own olympics joke: "i haven't seen this many teenage girls cry since ____ "
july 30 these olympics are getting GYMNASTY. hahaha.

july 29 in the original "star wars" screenplay, r2d2 was named kevin

july 27 next on the olympic schedule: "Eventing Horse Inspection"

anne hathaway is a little singing deer

july 21 the cat who thinks he lives here is terrified of thunder. at the first sign of a storm he hides in a bush or crawls low to the ground to hide behind my legs, shaking, making little chrips. he never gets used to it. the other cat who thinks he lives here is totally unfazed by thunder and doesn't even seem to notice it at all. so fear of thunder is not a universal cat thing. cat 1 is apparently inventing his own unique feelings of danger towards the big loud noises where there was no original cat instinct to be afraid: even when it is no longer a rational or new fear, since thunder has proven thus far to not be harmful to him. doesn't this suggest that he has an imagination? that he is projecting something irrational and scary that might come to get him? human imagination supposedly evolved from fear: fear of the dark and of the unknown and of big scary noises invented bigger monsters in our heads that kept us inside of our caves and early mammal burrows at night, safely out of the jaws of nocturnal predators or plunging from dark cliffs.
july 13 at the supermarket today the strawberries were marked "limited edition"

july 10 when i was walking through my front door with my tripod i had a vision of me walking through the front door very old. and i had a vision you were very old and in florida

july 9 we've been doing a series of screenings of the "everything will beok" films in japan. google translate does not help me very much with these audience responses we are receiving, but i really can't stop reading them. i like these so much better than the regular english reviews:

- The roar of a Film Festival being held in Bausushiata, will be screened the first time in Japan, "What a nice day", the latest work of the trilogy "all okay Kit" Don Felt Hearts! ! Was just completed in the spring of this year yet, Kanketsuhen of the story of the building.
- "Hearts say yeah yeah felt roar! !"
- " Don felt Hearts sold out brochure rainy day ..."
- " We have seen Hearts trilogy felt. Can not think of anything in an absent sort of way. I leave the soul. I've seen the limits of the brain"
- " Hearts felt I wonder, Bill was the universe, the head can not keep up, I wonder what! ! Only once in what I do not! ! Chapter 1 and 2 are also delicious - I look many times"
-" Watch Hearts trilogy screenings felt a roar. I saw a great sense of Nye also outrageous."
- "We have seen in the anime called bow Don Felt Hearts. Up from the expected value did great success, enjoyed accordingly."
- "Left brain ... has moved gradually. Trilogy, about a shock, shock was "all right kit" Don Felt Hearts. Was too terrible. But I do not want to write yet I finished swallowing and chewing it "was good", because there is no change to the bad impression this should, Yappari, was good to come."
- "Felt Hearts, Truly full human! !"
- "Part 1 part 2 is there seen that somewhere before, but at that time did not come with pins. Love!"
- "3 Hearts trilogy felt I had to look at it 's such I die someday, too. Rather than pessimism. The final narration that Usobui only. Some people lose their shape also someday be forgotten universe. But you know, counsel me gently at the same time also be a human descendant of "now" that this society is formed subsequently born in mind and I certainly do not form by"
-"Hearts roar is felt, was an enormous sense of immersion. It, (or what I had seen up to now) ... this scene was like Kke. Deployment of the final chapter ... and a little surprising. Or look a bit crossed my mind ... magic window."
-"We saw the animated movie called Don Hertz felt depressed, salaried workers next door I have cried tears holding, face full of super movie euphoria all the people who come out! Frail human life is Please do not look so want to die violently!"
- "Was a warm movie that scale can not believe the outline of the man of Hearts trilogy building felt, of a slender person is to talk about the thickness of the life out gradually, that would have led to the world beyond. Showing great signs of a building filled with around through the roar."

july 8 if i were telling you a story and said, "so this guy is walking down the street and he's going, dum dee dum dee dum, when an air conditioner suddenly falls from an apartment building and nearly hits him," how is it you immediately know what i'm talking about when i say "dum dee dum dee dum?" where does "dum dee dum dee dum" come from? who was the first person to use those musical notes to illustrate a conversation, and how was he understood? is this from early cinema when everyone's actions were scored? was it from earlier, when people would maybe whistle as they walked? discuss.
i have been shooting a couple of little things around town for the upcoming dvd's menus, and one of the things came out looking unusually great and gave me an idea... we've been making plans to bring the three "everything will be ok" films back into theaters this fall, newly edited together as a feature film, and now i think it will also include this shot nobody has seen yet.

commercial on TV for kids cereal, showing all the cereal bits whizzing around in space. tiny disclaimer below: "not a flying cereal"

june 26 i've found some old footage from 2006 originally shot and intended for the "volume 1" dvd, but deemed to be not good enough. i can confirm now that it is also not good enough for "volume 2". i'm hoping this thing can be ready to go in just a few more months. in other news, sleep is boring and overrated and i have no use for it.

june 23
anytime in conversation when somebody says, "not to _____," they are about to do just that.
june 21 any trip to an antique store between two people will consist of them each saying "you should totally buy this," neither of them ever serious
june 11 you always see people in the stands at basketball games cheer and stand up and give each other high fives, as if they just did something

june 6 it's getting hot. still slugging in front of the computer every day re-remastering these films. they are looking surprising and amazing, i am noticing things in the older titles now that i've never seen before, but it really drives your eyes sort of batty and i can't wait to be finished. last night i wanted to color correct the sky because it was too magenta.
i want to make an insect documentary. today i saw venus crossing the sun. i need to mow the lawn. the neighbors on either side have just mowed and now i sort of look like the neighborhood animal.
i've heard "beautiful day" won another award the other night, the golden zagreb award for innovative artistic achievement at animafest in croatia. please have a drink on my behalf and say something awkward to a beautiful woman.

i think these pants sharnk. sharnk. SHRANK. SHARK! PANTS SHARK! RUN! BUT RUNNING DOES NO GOOD

may 21 work has spread to giving all three films in the trilogy a fresh HD remastering pass, cleaning more bits of dirt, improving colors, telecine jiggle, fixing little lab problems never noticed before, blah blah blah. i have a new computer here dedicated to all this work, which has the unique distinction of being both incredibly boring and extremely complicated. i get frustated very easily at the software but rest assured by the time i'm done it will all look mostly sort of good, with not too many scenes accidentally deleted. the days are very short while sitting around doing this stuff, easy to get locked in dull routines and suddenly you are waking up every morning and thinking, like, what, i have to feed myself again? soon this will be done and i can get to work on the more fun things on the dvd maybe. the neighborhood cats keep dismantling birds on my front lawn. every other morning there is a new dove head and wing. i doubt the one i call bucket is the guy doing the killing because he is mostly sort of sleepy. bucket always shows up to eat the remains though. he looks sort of ashamed as he does it, like "well i guess i gotta eat this now"

many years ago when i would go to the grocery store and only needed a couple of things i would always try and find at least three things to buy. sometimes i would have to look hard for buying a third thing, or just buy nothing at all. because if i bought only one thing i was afraid the checkout person would think, "wow he must have really needed THIS." and if i bought two things i was afraid she would think, "i guess he is going to go home and somehow use THIS with THIS." buying things in numbers of three and up though and i'd be in the clear. i don't think i do this anymore.

may 9
saw the avengers. so many movies would be improved if the hulk just showed up in the third act and started smashing shit up

it's been hot and sleepless here, with spectacular thunderstorms all week. am about two weeks now into work on the new DVD, digital remastering trenches on "beautiful day" right now, cleaning up bits of dirt and stuff, patching up random old odds and ends of chapters 1 and 2, and replacing all the characters with photorealistic three-dimensional smirking animals. actually i can't remember if i've already mentioned this, but we're going to seamlessly link all three chapters together for the first time by knocking off the end credts of 1 and 2, thus creating a... uh, well, longer thing. there's also a load of homework to do for the rest of the new DVD, deciding which bells and whistles to include and which things are better left buried out in the yard, but i think i am somewhat ahead of schedule on all this stuff. if there were actually a schedule. i have run into one interesting dilemma with the clean-up work for "beautiful day," in that there were maybe four or five little hairs stuck at the very top of my camera gate through maybe two rolls of film, just barely poking into the frame. they're not distracting, but if you look up, they're there. they appear in maybe a dozen shots in the movie. it would be very easy to crop them out but cropping any shot would be bad, and so the usual solution here is to carefully paint them out with a tricky matte or a meticulous clone stamp... which i've slowly been doing... but at the same time realizing, and this will sound strange, that i kind of LIKE those hairs in a few of the shots. maybe i've just gotten used to seeing them in theaters, but they break up the space kind of nicely in some scenes and i like how they're frequently sort of just hanging ominously over bill. so at least as of tonight, i think i'm actually going to just leave a few of them in the movie. i've never heard of camera gate hair being used as a creative choice before. and no doubt in 100 years from now people may think, wow he must have spent a lot of money digitally creating those amazing fake camera gate hairs for his visual metaphor. but now you will know the real story.

may 5 reading "believing is seeing," by errol morris

april 30 "there's only one way to make a beginning, and that is to begin" - jack london

april 29 it's really good to be home. there's so much work to do. somehow last night in my sleep i managed to completely remove the pillowcase from my pillow
april 21 hello from minneapolis where i somehow found myself in the mall of america which is a pretty great mall if you wished ordinary shopping malls had more crushing existentialism and the constant echoing screams of people on rides. i finally slept great the last couple of nights
april 19 hi from the memphis airport, the screening last night felt really good, maybe the best q&a of the tour, and nashville also went well a couple days ago though i have to admit i can barely remember any of it now, let alone most of the screenings immediately prior to that one. unless i think very hard about something very specific to each town it is all just a bright impression of faces and stage lights, haven't been sleeping well at all this week and dreamt i was in the passenger seat of a car, riding with strangers on a slow street with traffic in the other lane flying by impossibly fast. it was evening and we stopped at a railroad crossing to wait for a train, about a dozen cars from the tracks, with bored pedestrians milling around the traffic with drinks, wandering, arguing, a vague sense of unease among them, and as the bullet train thunders closer we notice a handful of teenagers gathered along the crossing, jumping back and forth across the tracks, thrillseekers getting ready to dodge the train at just the last moment! they all leap together as the train flies past and it narrowly misses all but one, a young man who's yanked under in a flash of steam: jesus christ, jesus christ!, someone in the car is shouting as the teenager's friends, hooting and hollering, hoist the top half of his severed torso, still alive for a moment, bleeding and disemboweling all over the pavement. we sit there frozen and stunned with our hands over our eyes as the pedestrians, having faced the wrong way, carry on with their drinks and disagreements, oblivious to the evening, and i think "i've had just about enough of this," and consciously withdraw from the dream and wake up too early in a city i can't remember.

april 18 memphis and madison have both sold out in advance: this leaves the very last stop on the tour, minneapolis, as the only city left with tickets still available. EVERYBODY DRIVE TO MINNEAPOLIS
april 17 oatmeal cake with caramel and vanilla ice cream in bell buckle, TN.
april 14
hello from charlotte. a big bike race is scheduled for today so the roads are closed and people are playing tubas. i took a bus to find something to do, and a guy in a suit eating cheese poofs with orange fingers said he was crying on the inside so i gave him two dollars. it's gotten to where i can't remember what any of the hotel rooms looked like from last week, which theaters on the tour were which, or what city i will be in tomorrow. the airports, hotels, and theater lobbies are all just a hurtling blur of sameness now and i usually need a landmark or specific event to jog any memory of what a theater or town looked like from just a day or two ago.
i happily haven't needed to take a sleeping pill in a few weeks now, bringing ear plugs everywhere has been magic. if you drive each plug deep enough into your ear canals, they will put direect pressure on either side of the brain, which knocks you straight out. ITS GREATE. in strange new hotel rooms night after night, they really have become a must: thin walls and loud tvs, early morning noisy housekeeping, door slams, fire alarms, people screaming "my god my god is there still anyone left in the building," etc.
april 13 sometimes honey nut cheerios taste like blood
april 12
these were from tampa


april 11 airport observation: why do most adult males dress themselves like large toddlers? hello from atlanta where the weather looks beautiful and i am set up in a cozy cottage. the last time i was in atlanta i was downtown a lot, constantly harassed for change by crack addicts at every corner. i then stepped in human poop and had to abandon my converse, wrapped in a plastic bag and apologetically deposited in an anonymous office wastepaper bin as we cut through a hotel lobby. so...... improvement!

april 11 yesterday i asked for a "zip lack bog." :( i guess at least my early signs of dementia are hilarious

april 10 gone for 2 weeks, home for three days, tomorrow back on the road for another 2 weeks. having been on about 30-40 flights in the last six months i am some sort of leathery road warrior now, an efficient packer with knowledge of all exit rows and different airline soda availabilities, video ipod loaded with things to watch on every flight, headphones on and disappear. really looking forward to the tail end of the tour now... was considering adding additional screenings in new cities but realized i was weighing whether or not to add shows by counting how many more flights and connections i'd have to be on, and decided maybe this should be the end. one last round! let's go, see you soon

idea for fossil themed snack food: trilo-bites. they're PREHISTDELICIOUS

april 6 hello from jacksonville: one more show tonight, then home for just a couple days before yet another two weeks back out on the road. the q&a chat in gainesville last night felt kinda abbreviated and strange. the last few days i have also learned from various news articles that: "rejected" was real (wow), "wisdom teeth" is in german (had no idea), and that my films are "widely criticized for being misogynistic" (wait, what??). i hope to reach the end of this strange dimension we're drifting through soon. still, florida has been really great for this: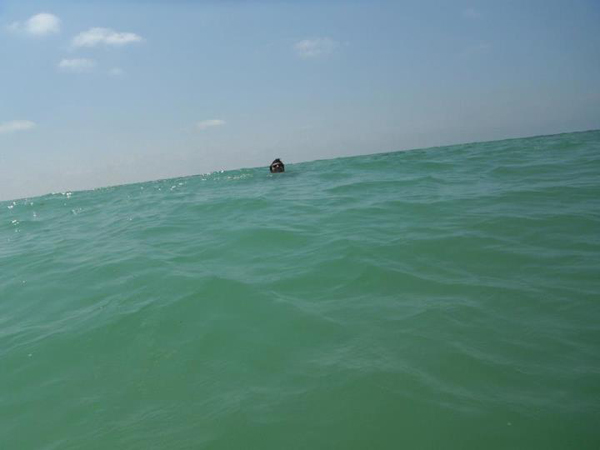 WILSON! WILLLSOOOON!! I'M SORRY, WILSON! WILSON I'M SORRY!
snake legs and thunder elk
april 3 2:43am
from new york to boston, where i'd never been before but unfortunately only had one day, so my boston experience has been confined to a two block radius. but a thumbs-up to your trader joe's down the street. i DJ'ed the preshow music live tonight from my ipod and mostly did not screw up. from one hotel room to the next, tomorrow is florida. my collection of little sample size shampoo and conditioner bottles grows.
april 2 in NY julia took this pic for my new photoblog series in which i get angry at different foods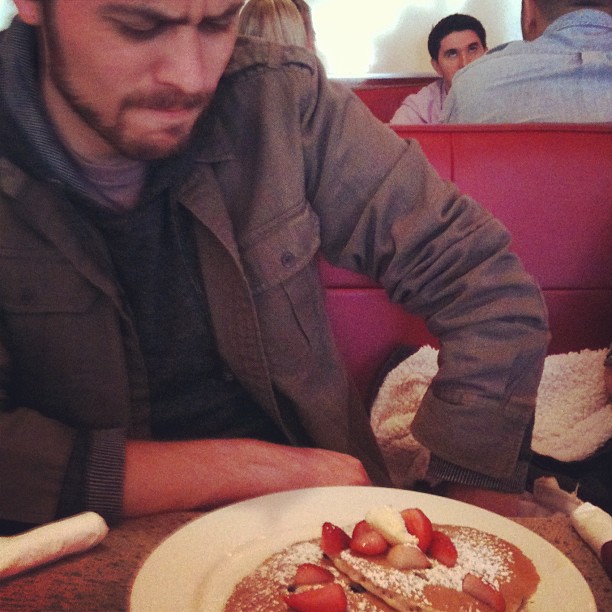 april 1 hi boston, i'm here and something slowly squeaking just rolled past the outside of my door. possibly a cart of some kind or a little bat on foot

april 1


march 29 four sold out screenings + one bonus show and we're all done. thanks nyc you were all too kind this week and made me sort of feel like a strange little bird whose head you really wanted to pet
march 28 so "wisdom teeth" reportedly caused a nice elderly couple to exit the theater tonight, in horror and dread. is this kind of sad, or a badge of honor? it's a shame it was the very first film in the entire program that did them in. for their evening's entertainment they got about two minutes of horriblenightmare before being driven out of the room. i do try and offend at least one old person in every city, but usually i just sort of push them over and run

march 25 your favorite songs on a sleepless airplane at 7 in the morning sound better than in any other setting. these hotel towels smell like cookies

march 23


planted catnip for the neighborhood cats and within an hour it was trampled and shredded to bits. so they don't totally destroy it, i've now become the idiot who chases cats away from catnip

march 20 home for a few more days and then spending a week in NYC, a couple days in boston, and then a drive across florida. i am so happy there will not be any more snow for the rest of the tour as i've seen too much of it already this year. snow in sundance, snow in cleveland, chicago, snow in toronto, snow in fargo. by snow i mean cocaine
toronto had some amazing bootleg dvd shops, some of them offering titles in ANAPOMIMIC VIDESCREEN and in fargo i got to play the theater's pipe organ! i also forgot my credit card in a bowling alley filled with people in big lebowski costumes with dreams of bigger things.
there are now five new projects i'd love to get off the ground in the next year, and only one of them is a movie. i am wondering if any of them can ever actually happen. i've been sort of lazily writing around the house, doing laundry, planting things in the ground, staring at clouds, not sleeping at night
thunder tore through the neighborhood a couple of days ago and deeply rattled all the cats who think they live here. i'd started giving one of them concentrated catnip in a sock and after having the initial wild reaction, he would suddenly just sort of lay there totally still, staring off into unblinking nothingness for several minutes ("is he dying?"), and i swear in moments like these he can clearly see the very edge of the universe but he just can't express it, for he is a cat. following the storms last night there was the smallest inchworm you've ever seen dangling on a thread in the night and i shot a video

march 9 beautiful girl with tattoo crying on phone in airport

march 5 it's very cold here in toronto, where the wind sort of cuts through everything you've got. i'm staying in an unusual hindu-themed bed and breakfast, only there is no breakfast but a free-for-all little cabinet downstairs filled with soap, granola bars, and diet sodas. plus a purple bejewelled elephant in the corner of the room. had a solid screening tonight, after which i learned that the new canadian 100 dollar bill is made of plastic and engineered to smell like maple syrup. so as america focuses its energy on building more bombs, canada has been hard at work figuring out how to make its money smell like waffles.

march 4 there are russians

march 3 a day off in chicago. went to the art institute and held hands with a class field trip as an instrumental version of a smiths song played. tomorrow i get to toronto. traveling alone to so many places takes its toll quickly... yanking back and forth between big crowds and lights and bustle to suddenly sitting in a quiet little room by yourself in a strange place again. most of my time is spent waiting, for an airplane, for a ride, for the movie to be over in a new theater lobby. indeed i've probably heard some of these films from backstage now more than i've actually seen them. but most of the time the people make it worth it. MOST OF THE TIME.

march 2 storms and tornadoes got in my way of getting to indianapolis today and i'm suddenly stranded in chicago with nowhere to go for two days. all that was left behind in this borrowed apartment is a liquor cabinet, popsicles, and a nintendo wii. it's as though i'm locked inside of a bad human zoo exhibit. so for the first time i had to beam a Q&A into the theater via skype for indianapolis... it felt terribly lonely and strange to be projected on the screen out of a completely empty silent room but it seemed to go ok i guess and hopefully with the help of skilled puppeteers onstage few people there could tell the difference. apologies and stay safe out there!

february 28 all 750 seats in chicago have just sold out so we're adding a 2nd chicago screening, tomorrow at 10:10 - tickets now on sale i think

february 24 nearly 400 people tonight. i think i've heard these films from backstage more than i've actually seen them now. the tour swings wildly between very interesting things and very boring things. mostly i spend a lot of time waiting in the wings for everything to be over. today i bought an overpriced chimera. there is nothing but dark sleet and wind outside. we went to see some mythical creatures at a museum but they werent open yet. i look old tonight february 23
hi cleveland. somehow we're staying in a retirement home that rents out several rooms to travellers. friday is larry's birthday and we're all welcome to cake in the lobby.

february 22 screening tonight in columbus, ohio, where christopher columbus first set foot upon discovering the new world. friday we screen in cleveland, where i am looking forward to finally seeing versailles

here's life in a day in its entirety which is worth your time if you have it. make screen big and etc:


february 18 dallas yielded the first encore screening of the tour... unprepared, we played it in the wrong aspect ratio, tinted purple. thanks everyone
february 16 dallas is friday night, the last texas stop on the tour. be there. or be doing something else. in dallas. YOUR MOVE.

february 12 back home for a few days, where it's raining ice and the cats don't leave. next up is dallas, ohio, and then a lot of very cold places. by the time this is over i think i'll have hurtled through something like 50 q&a's in 30 cities around the country and probably twice as many interviews. it's maybe not a good sign that i'm not halfway there and am already really tired of myself... when asked the same inevitable questions on a loop there is a danger of turning into a creaking phonograph with a microphone and i'm going to try and jettison everything i've been repeating a lot til now and see if i can dig in totally different directions on stage, even if it gets a little weird. also maybe some card tricks. how grand to release a movie without ever having to talk about it. onward and upward. here are a few things from the last 2 weeks and 6 cities

february 6 played the "talking, feeling, and doing" 1973 psychotherapy board game for children with the late night audience. sorry

february 5 eugene sold out - but 2nd screening added tonight at 10. you should come probably because you're really not doing anything better tonight

february 2 went from sundance and snow one morning to a beach in monterey that afternoon and today i'm in seattle. one of my suitcases exploded, possibly related. olympia show was ok last night. they had a hertzfeldt-herzog double feature so got to see "into the abyss" which is pretty great. you know you've been on a long trip when you're cutting your nails in a hotel room. the northwest is kind of strange right now. i feel like a ghost

for some reason sundance invited me to take over their twitter account for a day during the festival. here's part of the transcript

sundancefest: ok people. the #sundance feed is all mine. for $1000 i will tweet about your film. for $5000 i will tweet about your product. -@donhertzfeldt
sundancefest: on behalf of sundance i'd also like to congratulate director don hertzfeldt on his 2012 juryprize for universal achievement in great awesome
sundancefest: going to try and see the new zellner bros movie "kid thing." will duly sit and tweet all plot details for you throughout film -@donhertzfeldt
sundancefest: while you wait a favorite sundance midnight short: calvin reeder's 2007 exploitation weirdo "little farm" www.youtube.com/watch?v=hDFaLFA5VBY
sundancefest: "it's such a beautiful day" screens with some great animated shorts for the last time at 7 at holiday village! come say hi -@donhertzfeldt
sundancefest: i have three extra tickets. find me in town and i'll give them away. first hint: i am surrounded by snow -@donhertzfeldt #sundance
sundancefest: the free tickets are gone! wow, you guys are fast -@donhertzfeldt #sundance
sundancefest: 6th visit to #sundance and the first time seeing a squirrel ride on the back of a cat in a little saddle down main street -@donhertzfeldt
sundancefest: wait i am now being told this did not happen
sundancefest: hey, also playing tonight: "room 237." if you're not here at the festival, kubrick fans go track this lunacy down someday. -@donhertzfeldt
sundancefest: also, the new frontiers piece "evolution (megaplex)" -@donhertzfeldt #sundance
sundancefest: omg this q+a is NOT going well. the audience is eating a screaming woman and beetles are pouring from the director's face -@donhertzfeldt
sundancefest: 2 dogs with 3 legs in THE SAME PLACE AT THE SAME TIME. come on, you've totally never seen this before http://bitterfilms.com/dogs.jpg -@donhertzfeldt
sundancefest: and now a new feature for the twitter feed, movie reviews of things i did not see at #sundance -@donhertzfeldt
sundancefest: "the house i live in." totally amazing. a truly impeccable lack of tickets throughout this entire production. -@donhertzfeldt #sundance
sundancefest: "west of memphis" wow. devastating. scheduled at the same time as all my own screenings. stays with you for hours after not seeing it -@donhertzfeldt
sundancefest: is it considered tacky / bad form to use #sundance's twitter to find investors for the animated feature i'm writing? cough. -@donhertzfeldt
sundancefest: we'll need several million dollars and a strong team of animators and artists. probably in europe. do speak up -@donhertzfeldt #sundance
sundancefest: please don't say "kickstarter" -@donhertzfeldt #sundance
sundancefest: flying out tomorrow straight to more screenings: seattle, portland, olympia, and eugene. i am going to look smeary -@donhertzfeldt #sundance
sundancefest: "brittany and i had to wait an extra 20 minutes for the redstone express just to see our second-choice movie. #iamthe99%"
sundancefest: favorite response today: "did you figure out their password? does #sundance know about this?" -@donhertzfeldt
sundancefest: in the store there was a "punky brewster" dvd with a price tag obscuring the title and at first i thought it read, "penis browser" -@donhertzfeldt
sundancefest: ok so i'm told i'm being cut off early from the #sundance feed now for something called "the awards ceremony" #conspiracy -@donhertzfeldt

february 1 olympia, my hotel room is crawling with ladybugs. not sure if this is adorable or bad.

january 29 hello from monterey -- suddenly from icy snow to warm beach in a few weird hours

january 29 my bags are packed again. seattle/olympia/portland/eugene: you're next. also i have no clean clothes left for this trip.

january 22 weather report: heavy snow, 20 degrees, frozen hair, your windows will make long, low wooshing sounds all night. the first screening was good yesterday, saw a couple other movies and later trudged through a blizzard to reach the taco bell at the summit of mt everest. sort of laying low today and also we discovered this hotel has a sort of great lord of the rings pinball game in the basement. second screening tomorrow at noon, so many things on my list to see and people to say hello to.

often during q+a's my left elbow will suddenly jettison my forearm over the audience's heads. please catch and return thank you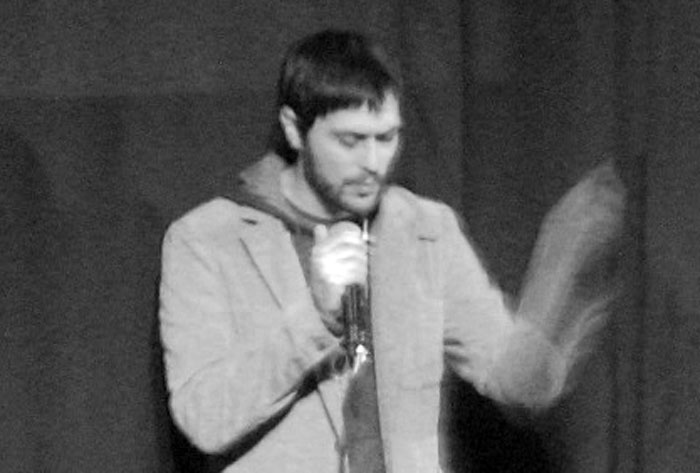 january 21 hello from sundance. snowing a lot already, everyone in the theater is wet. does your definition of "cozy" improve or require there to be an alternative of certain death or extreme freezing discomfort raging outside?

january 19 packing for almost 3 weeks on the road and just realized i don't think i own this many pairs of socks. see you soon in sundance/olympia/seattle/portland/eugene. possibly in a laundromat

january 17 adult nun fiction

january 8 2012 for the last few years i've had a dream sort of recur where i'm on a big airliner that for some reason has to make a routine emergency landing, onto a six lane freeway or in the middle of a village in africa, and we then have to drive the rest of the distance in the plane, looking out the window at cars and people go by, with a vague sense of relief. it's raining here and i've sort of been in slow motion for weeks. i should probably be writing but there are too many heavy things

my niece: bear! i get bear! it's in my woom! [runs to get bear] bear! now cuddle him! again! again!! now they're underwatah! and DANCING

january 6 i hate sleep

i am no longer the cassette tape in your car
december 19 denver, san francisco, all four screenings wonderful, thank you,. ive been home again for a week, sort of not unpacking, sort of slugging around the house, watching a load of movies, sort of working on this new script again as well as somewhat thinking about the graphic novel that has been half buried in the yard for a very long time. i think i'm going to add a robot to it. most things seem to be improved with the addition of a robot. but i will probably paw at this script for a while first. 2012 is going to be busy with these things and we're also announcing a whole mess of tourdates. the ground is slimy with rain and leaves butthe sky just turned really pretty

december 17 last night i dreamt you were a flight attendant

december 12 "graphic blandishment" was how animators were credited in the old peanuts cartoons but today sounds like a reason a movie would be rated r

december 9 hello sf airport there is a girl sitting next to me who has a really cute cough, it is sort of like, snarf snarf in a high pitch

december 6 Aware he was dying, Thoreau's last words were, "Now comes good sailing," followed by two lone words: "moose" and "Indian."

sf, denver

december 4 ""your xmas present will be the *thought* that i might remember your birthday"
reached the bay area, driving too fast in a weird rented cube with four more shows down: SB and LA, thank you, somehow we did it, three q+a's in one night, sold out screenings and a lot of complimentary mr pibb, a strange hotel room with a silver bean bag chair and view of palm trees and purple buildings. i actually forgot to pack my toothbrush. for the teeth in my mouth. the other teeth i have a separate brush for. san francisco you're next

december 1 i hope you don't mind, i am doing a crossword puzzle on your book

november 20 the first three shows are checked off the list and the movie is out of the oven and floating around the lower atmosphere in a fancy little suit. i added one last-minute short to the program lineup the night before the first screening here and i think that was a good move. the two austin shows sold out in advance faster than anything i've been involved with and you will be pleased to learn that the majority of my q+a's no longer consist of glares, gardening tips, and long, slow groans. west coast you are next week, briefly, and then a whole bunch of stuff is being cobbled together for the first few months of the new year. i am going to paint some rooms around here. we resawed a hole in the house a few weeks ago to get the 2nd giant acme camera inside. the cameras look handsome standing together and i've given them horse's names. here is austin and houston:





november 14
austin, i have no idea if the lineup of films i've selected for the show this week is actually going to work in a satisying way. you are my guinea pigs. horrified, screaming guinea pigs. november 10
it's still hard for me to believe fewer than ten people have seen "it's such a beautiful day" yet, i am clawing around the walls waiting to show this to you. a secret screening was held in montreal earlier this week for a few film festival staffers at the sommets du cinema d'animation de montreal (dec 3+4):
..............................................
"After the 23 minutes, when the lights turned on, I heard that the four of us were all crying quietly, and nobody said a single word. I don't know if you realize what you "did" - how big (?) is "this" - how far you make us go during these 23 minutes. My English being very poor, all this sounds quite stupid and empty for sure, but I just wanted to tell you that after the screening, I thought :
1. If there is one human being like this on Earth, it's ok. Then, it's ok.
2. I would like you not to burn or explode as they all do one day or another (the unique artists like you).
Thank you for everthing, merci pour tout."
..............................................
whew... thank you marie-pierre and marco! tomorrow night a screening at the bradford animation festival in the uk. next week usa premiere shows in austin and houston, and beyond. hello, hello hello i'll see you soon

november 7 getting tired of doing interviews and will now answer every question with, SNAKES.
"As an artist, what would you like your audiences to take away from your films?" SNAKES.

november 3 the wind keeps knocking over my plant. it is winter now

november 2 if the guy behind the car rental counter is wearing a white shirt, there will always be a little brown stain somewhere on it. look closely

october 29 the new movie is finished: signed off on the first release print a couple of nights ago after a long week of color work while living in the most murdery motel in glendale. tonight is santa barbara, tomorrow moving the big camera out of the studio and trucking it to austin. i was thinking of donating it to a school or something but since this other camera did not perform so dependably and i still have no eyepiece, i really need it with me now in texas. i shot "rejected" in the santa barbara studio in 1999 and everything else since, all the way through a good 90% of "it's such a beautiful day. the movie is finished + it's the end of an era...

october 24
subliminal arrows woven into the pattern of the airport carpet, to suggest movement. my flight smelled like ham

october 22
tonight i am declaring the soundtrack officially finished. almost four months to record, edit, and mix. off to the dolby lab tomorrow. collapse onto floor. i hear this soundtrack in my sleep and my soul is empty. the cat here likes to sit in boxes. also i have thought of some more album titles for you:
- let's go get haircuts!
- loud, gay chirping
- space groan
- i'm dancing in yellow
- everything is rubbable
- slithering to the lake
- i'm thinking tacos
- all animals can scream

this makes me happy. when i am 52 and sad in bed, please wheel a little tv into the room on a cart playing this, saying, "dooooon...."

october 7 the sky looks fake tonight and there are geckos all over the house and the wind keeps knocking over my plant. we have been beaten over the head with repeated little technical problems on "beautiful day" for the last three weeks.... time lost to lab errors, unexpected busywork, nonsense. the film is in no danger but i can't remember the last movie where in every department something seemed to be going wrong, all the time. most of it is out of my hands now except for the soundtrack which i am hoping not to go and ruin at the last minute. barreling very quickly towards the premiere date in mid-november. but i think we'll get there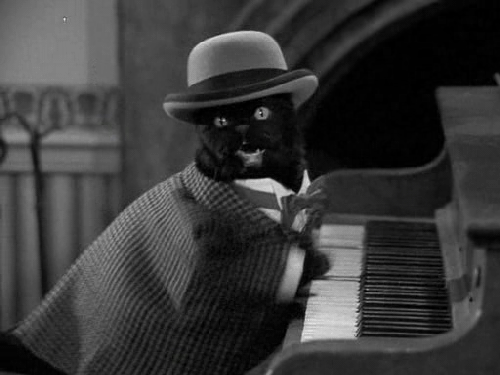 october 4
this headline was on my news page today:

handicapped puppy melts
hearts on the today show


october 3
" Greetings for the day & Enjoy your good health!
We are the manufacturer of Toys In China.We mainly produce plush/staff and holiday toys like Christmas hat.
We also can be made customized according to your need.
Let me know any question."

jaundice sounds like a girl's name
sept29 you know how in the dark crystal those machines suck the souls right out of the faces of the little pod people? that was actually protools. they were just working on their soundtrack for the third month. when i close my eyes all i see are wavelengths. it's finally raining tonight but i feel like angry chewed gum. but in happy news we should have a few opening tour dates to announce soon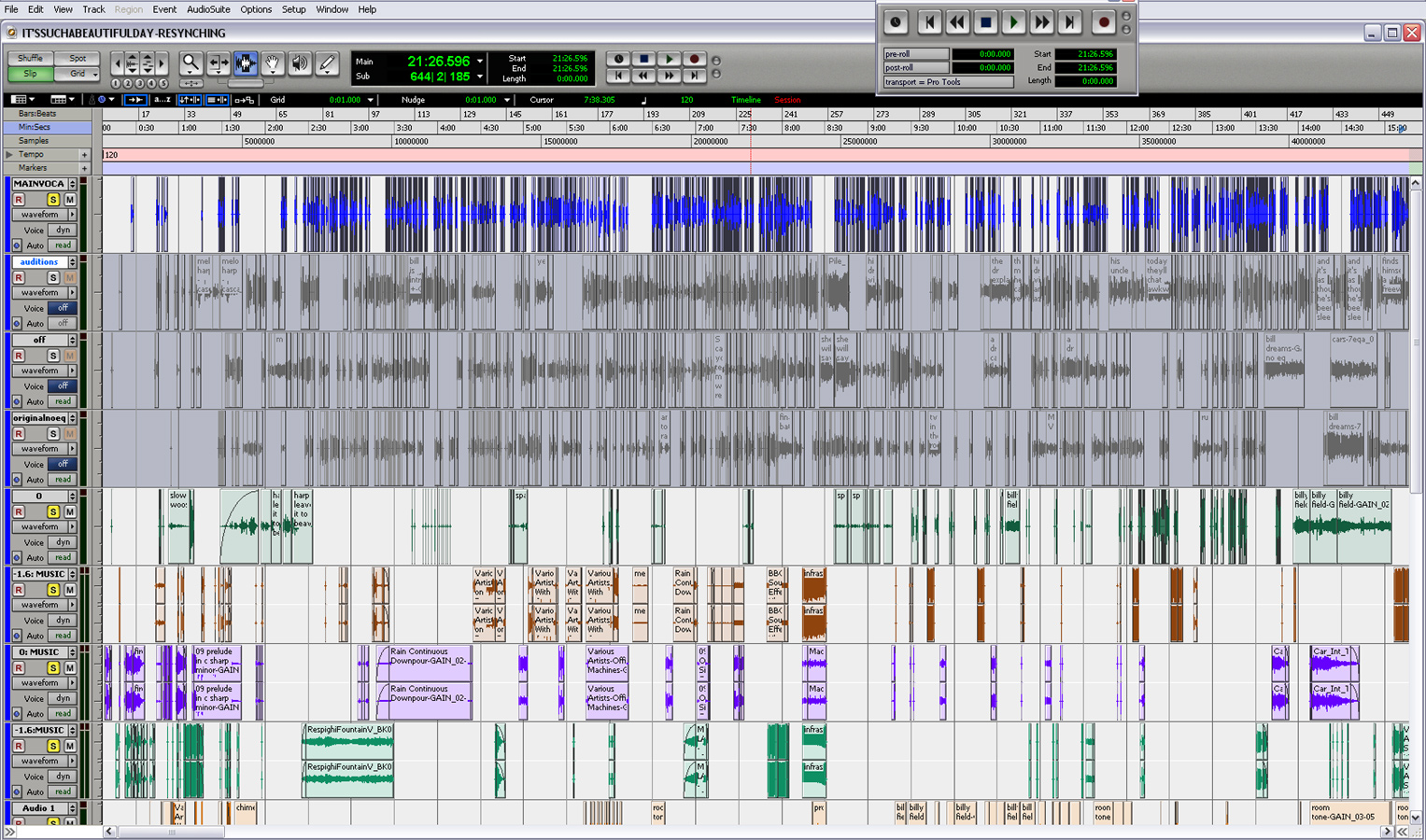 sept 14
k needed help thinking of a slang compliment for "nice legs." i came up with:
meat columns
torso danglers
lower arms
i think i am fired from helping any more
sept 12 just locked picture on "it's such a beautiful day," i think. final running time about 23 minutes exactly, longest movie to date
sept 11 3:53am
i've just synched the last note of music to the last frame of the movie.... better late than never.... things are rattling in ways i wasn't expecting but i can make it work and i think we'll have a locked picture soon [famous last words]
this just in from the grocery store: a gentleman purchasing a six pack of clamato to the tune of "we built this city on rock and roll"
september 4 i think we might be ready to sneak the movie out to a few theaters somewhere in november. i am finally running out of stuff to fix in this sound mix. if the new footage comes out right, i think one more round of editing and we'll have a final cut. so i am painting the kitchen. i also bought a new thing to put some things in and now the living room looks better. today i met some dogs
hey look some pictures from "it's such a beautiful day" are over here look do you see?
august 28 2011
roll 16 is through the camera and in the fridge, i can't believe i've gotten up to 16 now, much of it being re-re-re-shoots, and i will dive deep back into work on the sound mix tomorrow, and i am adding this extra final thought so that i can find a way to fit yet another comma into this sentence, and, well, maybe three more. late at night the cats hop the fence to watch us swim and now it's become sort of a clockwork routine for them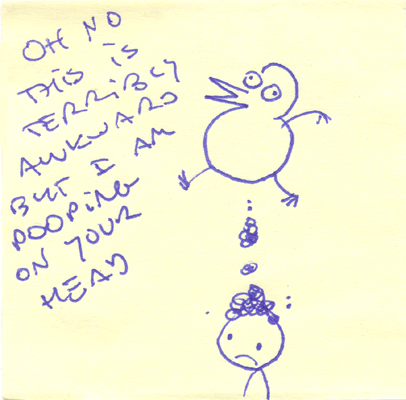 august 24 film history: turns out that "leave the shutter open" option on the animation motor is a relic from the days of rotoscoping.... you'd flip that switch if you wanted to use the camera as a projector and load it with live action footage that you'd project down to the table for tracing one frame at a time. thus, you'd need to leave the shutter open after every advance. i noticed the other camera i have here has the same little archaic switch on it too, only this one's got a massive piece of very old red tape glued angrily across it, keeping it from ever being set to the "open" position. it seems this has beleaguered many a cameraman in the past. tonight the grocery store smelled like soapy pee and there are baby geckoes all over the house. wait that's not how you spell geckos
august 20 something of a disaster today.... it turns out the four rolls of footage i'd shot since may are all unuseable... the camera here in austin has been weirdly leaving the shutter wide open after every frame of animation was shot, thus capturing my hands moving the artwork in and out of position throughout every scene in a mess of overexposed blurs and blazing horror. i admit it looks experimental and very pretty, but it will give everyone seizures and the sudden appearance of giant hands will probably change the story in a negative way. so remember that simpsons halloween episode where homer keeps getting attacked by a cursed krusty doll? and finally they find a hidden "good/evil" switch on the back of the doll, and someone says, "well here's your problem, somebody had this doll set to evil." i've learned the camera has its own evil switch i wasn't aware of, an inexplicable stop-open switch that's been unknowingly set to leave the shutter hanging open through the last several hundred feet of animation. and i'm still trying to wrap my head around why on earth anyone would actually want to design such a thing for an animation motor that would, by design, ruin any frame-by-frame photography.... burbank, what have you done?
even though most of the ruined footage were reshoots that we could carry on without, it also contained the very last 30 seconds of the movie, which i didn't otherwise have coverage on. so the soundtrack's just about finished, all the other footage is there in the movie, we are just missing that last 3% of it... and though it is tempting to simply end the movie on "scene missing" cards, i will now shoot more camera tests, confirm that the evil switch is now properly set to good, and power through these reshoots. again. more. shooting. this will probably delay the movie being finished by a couple of weeks, but in turn that will probably delay the actual release of the movie by about a month
august 19 a week ago i dreamt i died in a plane crash. in spirit form, i could still contact people by sending thoughts directly into their heads... but they all assumed they were simply wishing i were still around, and dismissed my telegraphed messages as their own sad imaginations
august 16 i just accidentally texted someone, GET IP GAAG. i guess i'm just not going to explain it and see what happens
august 15 red ants have taken over a bedroom window and seem to be building something out of mud. tonight a car drove into a house and i stubbed my toe on the uneven sidewalk and we swam under a full moon
august 7
the cicadas in the trees rattle at all hours, the days are reaching 106 degrees, and the cat here can fluently pronounce the consonants "R" and "W."
i am getting mighty tired of listening to this soundtrack every day. there are few creative things left to do in there now and it's getting down to all the technical boredom, re-recording, polish, polish, polish, please don't put the headphones back on me. there are also reshoots and new takes left to edit in, about 800 feet of footage that i still haven't seen. all downhill to the finish line, but i've grown so mind-melded with the movie it's hard to believe there will one day be an end
there were a lot of cops out tonight and people yelling at children in the grocery store. the quote of the week was, "now your floors will never be moist." here is an unrelated picture that karinne took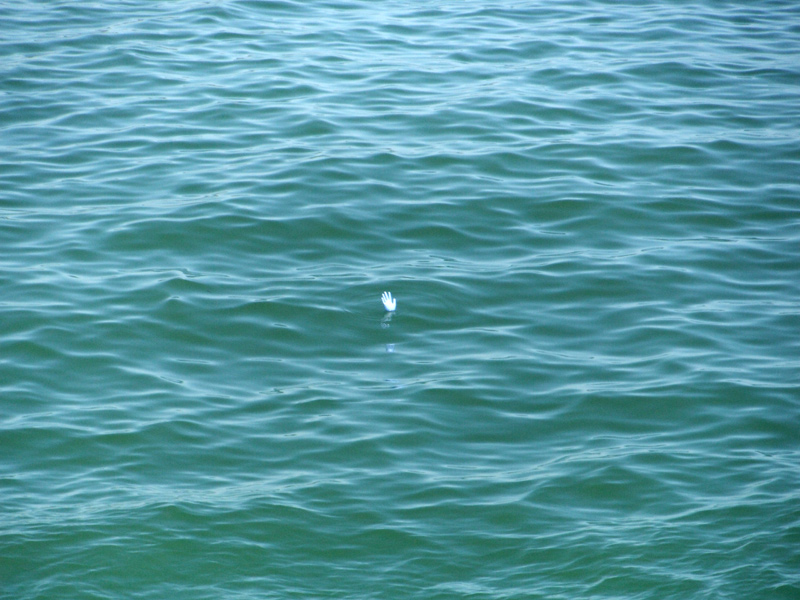 " with little plumes of cigarette ash dancing off your black wings"
july 18 sometimes i mix up the word sparse with parsley and end up thinking things like, "income this month has been sort of sparsely."
july 17 i have about five minutes of film left to narrate and edit and will then have finished a rough draft of the soundtrack from beginning to end. it seems i am adding and discovering much more new music to include here and there + possibly skipping a lot of the music i had originally planned (as well as written), which gives me the strange dilemma of my long-ago-shot page of music credits being completely wrong and incomplete at the end of the movie. it is annoying and expensive to have to go in to reshoot a single page of credits, but if that's the most annoying problem i have right now i guess things must be going pretty ok
july 6
"you are the king of selective listening"
"i am the king!"
july 5 .......i'm about 1/4 of the way through carving out a skeleton sound mix and finding the right beats... meanwhile rearranging shots, yesterday finished one last roll of film, and am happy to report now that the movie is at least not going to suck... things are slowly sticking and tugging in the right directions, sometimes surprisingly so. animating, writing, and shooting for almost a couple years without arranging any of the scenes together is always a strange thing, seems like sculpting something in pitch blackness with maybe a tiny bit more light let into the room as you go, but it's only months later when these first edits and sound touches let in enough light to actually see the thing you've been chiseling for ages: "oh, i've got his head on backwards" - "oh, obviously this has to go here and i need one of these" - "wow, this is really just terrible"
i meant to type "exposed neg" on this can of film and accidentally put, EXPLOSED NEG
quote of the night, observing a clumsy fall: "if you had a sparkler in your ass that would have qualified as a firework."
june 23 2:35am i was a lot like cat today. i got up on the roof, i ate a lot, and now i'm sleepy. early sound work continues. i don't remember the narration being this hard before to actually get right. rewriting, changing music, etc. the air is warm and wet tonight from last night's storm and everywhere in the darkness all things are hissing and chirping and going rrrrrrr
june 22 the sky is thundery now and my bread tastes like pancakes
june 16-17 i realized i am missing one minor shot, which gave me the excuse to order yet more film and add a few other bits and pieces... one involving a strange little thing on a beach which i am going to draw tonight. the furnaces are burning hotter now and i feel i am slowly pounding this thing into some sort of shape, or at least something vaguely shaped like a movie. with everything finally flowing in order it's much more clear which sequences need a little more of this, and which need a little more of that. just saw "the tree of life" tonight and liked it very much, though after discussing it i realized that through the whole movie i'd thought sean penn was the other brother, which i guess sort of changed the whole thing for me. also took the wrong freeway to get to the movie theater, mere seconds after reminding myself to take the other freeway, so it seems like maybe there's a recurring something-wrong with me.
i fed the cat who thinks he lives here leftover beef chow mein and afterwards he looked up at me and said, "thank you very much, that was fantastic."
may 31
the first assembly of "chapter 3" has just been stitched together, it clocks in at just under 22 minutes though more footage is going in and more footage is going out. this is nerve-wracking to watch.... it is always easy to panic when you see about two years of work quietly whiz by like nothing... i'm probably shooting roll 13, all retakes, this weekend on the new film stock kodak's introduced to replace the stuff i usually use... their promotions make it sound like the stock's so versatile that its emulsion can capture the ghost images of your dead ancestors and then melt the screen with colors. which luckily is exactly what chapter 3 is all about.

may 12
well, it's getting exciting... the footage looks really great and some of it makes me want to run around... as i suspected though, the camera's shutter action began breaking down midway through the week, and by rolls 10 and 11 there are frequent bursts of overexposed frames interrupting every shot. suspecting this, i'd shot everything really fat and i'm pretty sure we can cut around all of it. meanwhile, i was forced to not use registration pegs for some of the really experimental stuff, and i think something also got misaligned when i printed many of these frames, resulting in many shots that are weirdly jittery, like a strange earthquaking hand-held look... so put together a lot of this material basically looks like i was desperately trying to finish the movie while under intense machine gun fire. but i think i will be able to use some of these weird flaws to the footage's advantage. maybe.
there's a handful of scenes in there that could be better though, particularly the last shots of the movie (rather important), and i'm therefore going to need to rethink and reshoot them here in austin with the screwy blind camera. could finishing this movie be any more dramatic? camera one has taken sniper fire! land the airplane, blind camera! land the airplane!

may 1 wasps have started living inside of one of my lawn chairs. it's like the worst chair you can select now.

april 30 austin. "it's a wrap." uh, until i see the footage and inevitably have to go back and reshoot and fix and a bunch of stuff. but we can pretend. 1600 feet of animation shot in 8.5 days, a new record. going to sleep now.
april 25 back in santa barbara, five days into shooting, 10-12 hrs a day at the camera, everything hurts. the giant stacks of animation left for "chapter 3" are formidable but i should be able to plow through by the end of the week. every late night i drive back and think i see blurry figures and faces in dark corners of streets. the magic camera stand blew out a light today and lately the shutter has been getting stuck on frames, but damn it, it still runs and we flow together like old times. when i re-opened the studio for the first time in seven months, the door wedged on a massive pile of junk mail that had amassed beneath the mail slot, damp and literally rotting from leaking rainwater
april 14, with nothing to do until i go shoot next week, i shaved my beard off and sat down and began writing this feature screenplay i've had hanging in a tree for years. in one twelve hour plus sitting i have poured out 33 finished pages and am feeling rathergreat.

april 9
i just accidentally sent an email signed as "dion" :(

april 8 i drove by the google street view car today. maybe i should have waved or done something fun but i sort of sadly drove past like i was in trouble. also i think the conflicting sudden impulses of all the different fun things i could do on the spot would've collided and i'd have just sort of thumped against the driver side window. the woman behind the counter at the post office looked like she'd been crying all morning. also last week we were almost run over by a high speed police chase. (not the woman in the post office)

"I do not like the picture at all, -- in fact I cannot find words to express how much I dislike it.
-- You were never physically attractive to me; you are neither graceful nor beautiful, and you evidently know nothing of the laws or properties of beauty.
Otherwise you could not have sent me such a picture, as it could only disgust me.
Whatever liking I have had for you, it has never been of such a character that I could be otherwise than disgusted by such a picture as that.
It is unutterably coarse and gross and beefy. It is simply unendurable."

march 27 2011, i think i finished animating today, i think. unsettling. i am restless. according to the journal i started drawing this way back in october 2009, easily another life ago. i can't remember when i started writing, i doubt those first drafts resemble this much anymore, it's grown and grown and grown into something sort of weirdly great. stacks and stacks of stuff waiting here to be shot, plenty of months of production work still ahead, but my nights of drawing little round headed things in successive motion seem to be over for now. everything will be ok turns five years old this year, what a long way to tell a story. the weather here is good. once the summer humidity hits, you don't want to go outside much other than to swim. cats melt and can be poured into convenient six packs

march21 a glimmer of good news....the austin camera passed its test with flying colors, looking clean and free of bad things. of course i am shooting almost blind on it (no working eyepiece, framing things by squinting straight into the little reflex mirror) but i should at least be able to get some easier shots tackled here in case i'm not able to get it all though the magic camera in santa barbara. i still can't believe i own two of these beasts, resurrected from life support, in different states. today a turtle scowled at me for an extended period of time and i put a plastic wolf tattoo on my arm. we were going to hike but sara brought the wrong shoes.
march16, 17 sxsw is happening and downtown is wall to wall shuffling tote baggin hipsters, rockstars, aggressive LA types, hula hoop girls and ukeleles, no parking, and warily passing drunk white guys post-beaten up and left bleeding on the sidewalk. so i haven't been going downtown very much. but i did see the new werner herzog cave documentary and it's pretty great. i also saw a michael stipe thing, followed by a band that screamed "geiissshaaaaa!" a lot while we ignored all the motion around us and talked about the end of the world while watching the terrifying radioactive news coming out of japan on a small blue screen. also last night i had to cut a wasp in half but in the morning it was a moth.
i've just booked a flight back to santa barbara in one month to shoot, so now i have to buckle down and actually finish the rest of this movie. really hoping to shoot some of the simpler stuff on the cri-ppled camera wondering what it's doing in my house, i shot a strip test on it today to make sure the gate is at least not full of bug hairs. incidentally kodak has forever discontinued my usual film stock for these cameras and i've just bought the last four rolls of it in existence... i guess there's a replacement stock but it's 200t instead of 100, and change scares me. we found ourselves drinking with davefoley the other night, who wound up curled up in the dirt in his suit. last i saw him he was doing that thing where you go down a staircase walking carefully backwards on all fours. i am still not altogetherhere but i just found a cookie to eat. quote of the day: "it would be funny at first but i am sandy and determined"
march 7 who wants to go to ikea thisweek? march 6 down to maybe three shots left to animate, the last three i've been stalling for weeks for not having figured out yet ....one in which a character is viewing "stunning works of art," the sort of scene you immediately hate yourself for writing when you sit down to actually try and deal with it. need to grimly stare these down as quickly as i can this week and then book a long trip to the santa barbara camera, i wonder if she misses me. every day i've painted a different wall in the house. quote of the week: "if i was run over by a bus would you go barf on a stripper?" i think i had something else to tell you but i can't remember
this is maybe the most interesting article you will read about "wisdom teeth."

february 22
grrrARRR
[climbs out of hole in the desert]
rarrara rrarrr arrrrrr
[lumbering around landscape with claws]

february 20
the austin flea market = machetes, cock fighting dvds, and last supper paintings
february 16 it's warm again, with fat grasshoppers in the dead lawn and happy rolling cats on doorsteps. i have about ten very difficult shots left to animate and then i'm done...
february 7 the ending is almost totally storyboarded now. i...i can't believe how many shots there are in this movie. every time i think i'm getting close it all just expands just a little bit more. but the light at the end of the tunnel is almost in sight. knocking them down one at a time. getting hard to leave the house. this movie is going to eat your face.
february 4 my friend molly sometimes teaches illustration at elementary schools: this is a kid's inexplicable drawing of two dragons dropping their plastic water bottles down a storm drain to engage in sudden battle. i want to frame it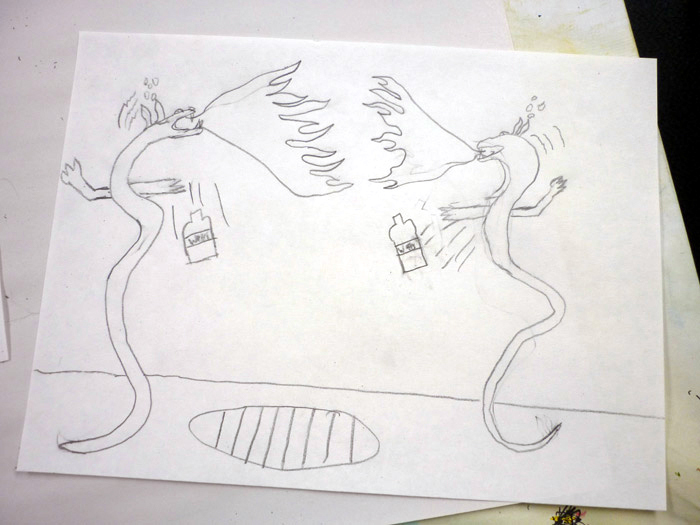 february 3 highs in the 20s this week, possible snow tonight, animating in front of the space heater with a scarf, coat and hat
january 31 i bought a piano a few weeks ago and am happily getting back in the habit of playing every day. i have conquered two gnossiennes, one more to go. above certain phrases, most composers' notes to the musician will read something like "softly" or "brightly"... satie's fantastic notes read, "open your head," "arm yourself with perspicacity," "don't leave," and "how to achieve absolutely nothing."
there's a huge storm blowing through tonight, wind and rain throwing trees around and snow is on the forecast in two days. tonight i've been drawing an elegant creature though the animation hasnt reached elegance yet.
january 30 everybody had a bad week. i crushed my finger, really smashed it, thankfully not the drawing hand but i'm not sure i've ever felt such physical pain before, like the same level of awfulness for ten minutes that leaves you writhing on the carpet exclaiming things. then it swelled up and the fingernail turned alarmingly blue with blood and long story short i learned this trick from a doctor on youtube where you muster the courage to light up the tail of a paperclip til it's white hot so you can drive a burning hole in the nail to drain out all the blood. too much information? nobody's reading this anyway. so stabbing burning metal repeatedly into my hand was how i spent the other morning and i did it sort of dumb for the first few attempts and let me tell you if it's only red hot it won't burn through the nail and will only just really really hurt. let's hope this week's a little better yeah? i completed three beautiful shots so far to the ending to "chapter 3", it's really happening.
"Perhaps that is what has made us America's Pretzel."
january 24 wrapping up a few shots tonight of bill under a very familiar tree. the ending is finally up next, maybe starting the first shots in a day or two, and i'm getting really jumpy to launch into it now.
in this shot from last week i had to animate bill very, very small. this was actually spoken in conversation today: "i'm curious what dr. handy says on groundhog day."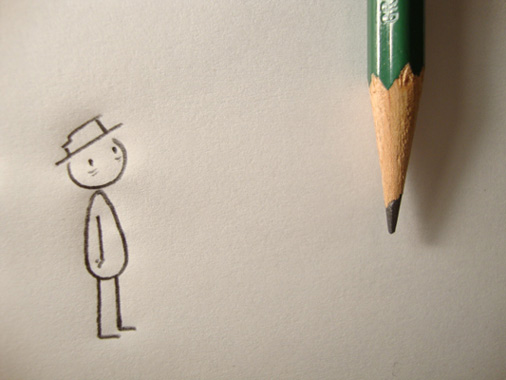 january 15 i'm starting to stare into the future (it's eerie but i do this) + wondering exactly how long it'll take to finish "chapter 3" and whether it'll still be deliverable in time for another fall tour... and in turn how wise it will be to pull the trigger on starting tour preparations, say, over the summer, if the finish line for the movie is still in limbo. i seem to be a couple months behind where i thought i'd be. sort of began storyboarding the ending sequences which is really exciting and terrifying. they are huge.
this is a totally useless conversation i had on 8/30/09 while working on the sound for "wisdom teeth"
me: i cant think of what sound effects to put with these shots
sara: birds and puddles
me: i didnt think puddles made sounds
sara: they do whn my feet are in them
me: if puddles could sing their voices would be low and groany
me: this person in the scene is in intense pain and the screen sort of goes abstract. i dont want to use sound effects i would ordinarily put here because ive already kind of done them to death
sara: doens't pain sound like "wahwahwah"
me: well its not the person making the sounds.... its the sounds of the image
sara: i know that!
me: wah wah wah?
sara: i didn't mean a person saying that.
me: like a siren you mean?
sara: no, not like a siren like a pounding headache
me: like a low drone? waaaaaaaaaaaah waaaaaaaaaaaaah
sara: yeah that pulsates
me: "ow this really hurts! WAH WAH WAH WAH WAH"
january 11 2011 where i've been lately
january 6 2011 happy new year. is it too late to say happy new year? after weeks of compositing shots, it feels really great to actually be drawing again. hello paper. hello pencil. i've cleared a lot of shots out of the way now and almost ready to get started on the ending. maybe after one more week of all this. i don't know why but my hair seems to keep turning red
december 20 the pool is full of drowned caterpillars. heading to california tomorrow, my niece is toddling around now and the only word she knows how to say is "wow." everything is wow. which, when you think about it, is really the only word you need. at 2am tonight the moon is going to turn red and disappear.
"because you speak to me in words and i look at you with feelings."
december 11 at&t assigned the house a phone number that used to be a discount shoe store so a half dozen people a day call me for shoes. sometimes all they say after you pick up is, "where y'all at....exactly." the house still needs more attention and furniture but i haven't been doing much the last couple of weeks but gain weight and try to push these remaining scenes up the hill. my mouth felt weird today. tonight i'm working on a little shot of bill rising out of a chair, and a few little shots after that i'll have nothing left to animate but the very last scene of the movie, an amorphous chunk of story that's so free-sprawling and weird that i haven't got much of an idea even how long it will be, one minute or several. it's going to be large and difficult and an adventure to figure out, and then that will be it. i wonder how many times i've drawn that little hat.
your quote of the day: "often it's just sound effects or observations about sensations in my mouth."
your quote of the week: "ringo was scrunchy."
look, they are waving at you, from across time. they were just like you, once.
NOVEMBER 16 I DON'T KNOW WHY THIS IS IN CAPS
on paper i'm periously close to finishing animating "chapter 3," yet it's going to be a very slow crawl to that finish as it seems every single shot from this point on is gonna be difficult, time consuming, and tediously special effecty. but i'd guess i have only about five more minutes to get through. "wisdom teeth" has been sitting finished on a shelf for so long i've almost forgotten about it... showtime picked it up several months ago but hasn't decided yet when exactly they're going to show it, though it should turn up both online and on tv almost any day now. i think? here is your quote of the week: "only one apple pleases the japanese."
this is another still from "chapter 3," shot from so long ago it feels like another life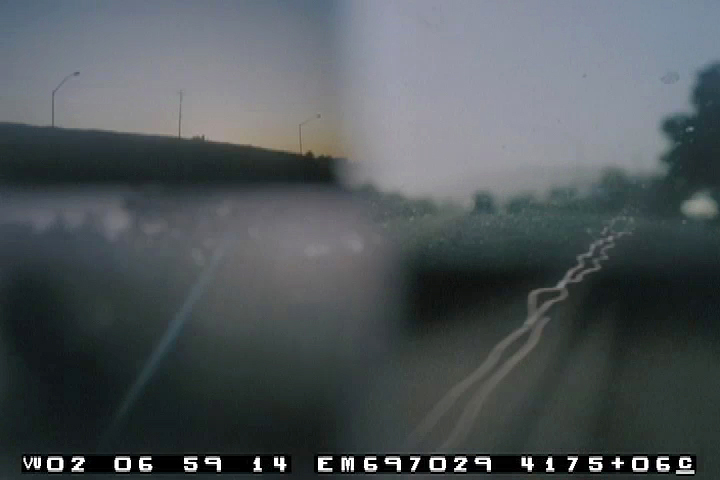 "i would have covered you in glitter glue and thrown a stuffed owl at your face"
nov 1 happy late halloween, a cat has decided he lives in my house and bangs his head nightly against the glass door. i'm sinking into a number of weird hybridy special effect shots in chapter 3 now, bouncing drawings and things back and forth from analog to digital, eventually printing entire scenes back out in the form of several hundreds of composite photo prints that'll be further messed with when i go to shoot them under the camera, one at a time. it's strange stuff and the few scenes ive tried this on look so good i sort of have to design others now in the same miserably time-consuming way. it seems like i'll probably need to return to the santa barbara camera somewhere in december to february to shoot the final rolls of the movie, which i guess isn't such a big surprise since the other still has no working eyepiece. here's a picture from chapter 3 that was shot back in june or july. will probably dribble out more pictures to the journal soon if i remember. chapter 3 will be in theaters next year. i think it's gonna rain soon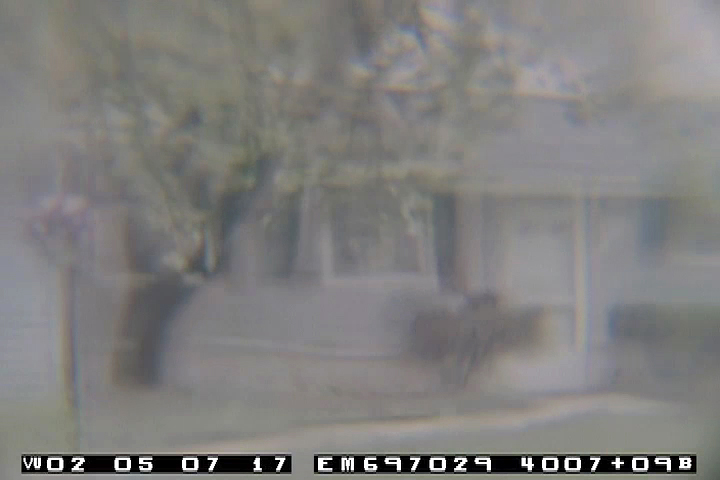 oct 9 i'm the last person on earth to have never carried a mobile phone before, i kind of hate them on principle but had to get a temporary one during the move. you may receive a text from me that is all confused symbols. sometimes it lights up and i throw it across the room
oct 7 pictured here is the "new" 35mm animation stand currently living in my house. we look at each other awkwardly like teenagers at a dance. i think it dates to the 1950s but i'm not sure. possibly in the early 1830s it was used in eastern europe to execute foreign prisoners of war. i hope to be able to shoot the last third of "chapter 3" on this so i don't have to run back and forth to california to finish the film on my main rig out there. i have quite a bit more drawing to do before i'll be ready to shoot anything again, but so far the eyepiece i have for this camera seems damaged and can't be used. i don't suppose anyone out there has a spare eyepiece for a 35mm acme? am i the only person in the world now who owns two of these monstrosities?

oct 6 through all the unpacking and furnishing and planning ive left one room in the house completely empty, it only has a window and a floor and i like this very much
sept 19 animating again, on a broken chair, covered with anonymous bruises. in two weeks i have survived a tornado, a strange bald man appearing in the backyard, flooding water from the worst storm in years,
hydrochloric acid spilled on my hand, a camera abandoned for days in the rain. still no working phone until the end of the month. austin you are trying to stop me but i will never stop crawling forward.
on rainy nights the toads have orgies that carpet the lawn. sometimes their bodies get lodged in the pool filter, swelled up like little basketballs. but when there are stars, we swim.

sept 6 the house is beautiful but i still sort of vaguely feel like i'm only visiting. i think this feeling may pass once we saw a giant goddamn hole through the wall to get the animation camera inside.
sept 5 hello from the middle of nowhere a few days ago: arizona, new mexico, texas?
august 31 arizona. i drove through LA on my way out of california to buy a second giant animation stand and i hope it will be happy living with me in austin. i'm still not sure what to do with the one in the santa barbara studio, or how to get it down that flight of stairs. this camera seems a bit different than the other, almost turned upside down... the camera is mobile up top, whereas on the old stand it's the table that moves.
injuries sustained so far: a cut up left hand, sore limbs, bruised legs, blisters, sunburn, and as the plants sitting next to me flew forward in the car i instinctively threw out a protective hand, firmly grabbing my cactus and impaling myself.
we also dropped my television down a flight of stairs. tomorrow to west texas and more bleeding

august 27 facing down the last days in california now, when all the stress + things going wrong sort of come together to make a perfectly awful little bow.
i've decided to write a haiku about these last few weeks of sleepless cleaning, packing, and moving. i hope you like it:
poo on everything
poo poo poo poo poo poo poo
poo on it all, yes.

august 20 ive decided to give up on moving and just live sadly among my dusty box towers. ive painted faces on the boxes and given them ladies names
august 13
david mentioned someone was acting "pretty dickish." pretty dickish sounds like the name of an overweight british prostitute from the mid-1800s. she mostly serviced lonely sailors from her harborside bedroom and spent many quiet mornings staring longingly into the foggy sea. someone please write a novel about pretty dickish. someone else please make an oil painting.
"wisdom teeth" is due to be available all over the place in just a couple more months. finally, finally finished wrestling with the colors in that one and delivering it soon. some movies you think you finished long ago but realize you've been walking many miles with them still clinging to your leg
august 12 2010
my apartment and the studio are now filled with heavy horrible boxes stacked in horrible towers. i am filthy with boxes. boxes, boxes, boxes. there is still more packing to go, more throwing things in dumpsters, more surreptitiously throwing things in neighboring dumpsters in the middle of the night when this one has been filled, more covering oneself with dust bunnies and standing in corners that used to be occupied for years by furniture and now provide strange and shocking new vantage points to familiar rooms that have never been seen. i am not used to navigating my new box maze surroundings and sometimes they come crashing down around me. i have also dropped a very heavy sharp object as well as a large vacuum cleaner within inches of my bare foot (the same foot, though not at the same time), have twisted my back more than once struggling furniture down stairs (lift with your back, right? like in a sudden, jerking motion?), and found many depressing buried artifacts from ghosts of girlfriends past underneath large objects not moved in years. i think i am supposed to be excited about moving into a new house in a brand new city but mostly i just want to drink a lot.
meanwhile, each film - tens of thousands of pages of animation in ridiculous haphazard stacks dating to 1995 - is finally now being gathered and organized and placed into properly labeled storage boxes. it's probably something i should have done long ago and now have a good excuse. i have caved under the amount of work to do with this and recruited an intern to help and she encourages me to continue with the box plan every time i break down and want to burn the whole mess of them.
the garage sale we held on facebook was a roaring fun success, countless random items sent to people from the studio included wonky rare shirts, books, props from the films, sea monkeys, drawings, production odds and ends, dinosaur vhs tapes, a dvd of "lawrence of arabia" signed "i did not make this movie," photographs i took in elvis's living room, hundreds of other things i can't now remember but should probably apologize for


july 31 2:27am
finished roll 7 of chapter 3, which, depending on many factors, might well have been the last footage i ever shoot in the santa barbara studio. kind of strange and sad to think about that. the last 48 hrs have been the busiest in years. trying to work on two films while packing up all of your belongings under a deadline, i don't recommend it
july 27 today was tinted yellow. i just got through one more shot in the studio, trying to finish out this roll of film before heading out of town this weekend + leaving the state a few weeks after. i just went to the kitchen to get another trash bag and returned with only a soda
july 25 packing up, throwing out, everything must go. dust-clouded treasures unearthed from closets and boxes include a 1994 warranty from my first computer (800 mb + a fax-modem!), a horrifying rubber monkey frozen in the half-turned act of throwing an orange, a 7" copy of crush with eyeliner signed by dennis miller (what the hell?)
july 23 i think i might have gone and bought a house. it's a very sudden and terrifying grown-up feeling, and i take comfort in knowing that the house i've selected is completely irresponsible and ridiculous
july 13 dreamt last week: i was watching "chapter 3" dailies with, inexplicably, a professor from my old film school. there was very little drawn animation in it, it was mostly repurposed photographs from the 1970s: pictures of bowie, fashion, pretentious closeups of pornography, and i remembered shooting all of this but couldn't remember anymore how any of it fit into the movie and the professor grew impatient and said, "come on, what is all this shit?" as i slowly realized that i totally sucked
july 6 on my evening walk around the block yesterday: a large cooking pot in a bush, a pair of panties on the sidewalk, an old wooden chair on its side, a vhs copy of field of dreams against the curb. it's like a bad flea market lives inside of a raincloud above the neighborhood.
july 3 because you want the day to come sooner
powered through a second roll of film in exhausting record time, heading back to los angeles tuesday for another full day of lab chores, then returning to austin to look at more real estate and pretend i know what i'm doing. "is this real wood?"
last week i knocked together a beautiful frigging roger rabbit shot at the last minute on a weird lark... and on the previous roll i was even rotoscoping something... what the hell's going on here? i might be done animating in a couple more months.
tonight = doing a terrible job coloring a scene with pastels, spilled ten thousand cheerios on the carpet
june 27
don: that was close
don: their feet probably look like ground beef
j: yuck
don: in north korea they are actually going to make burgers from the shamed team's feet
don: i read that
j: YUCK
don: north korean shameful foot burgers
j: what is wrong with you?

the bottom of the door to the studio is warped outwards from water damage and has a deep splintering crack in it that a beautiful big black spider has moved into. every night when i go open the studio door she runs into it for cover
june 22 quote of the day: "at first i thought the elf was crying and i think i like it better that way"
june 21 been shooting in the dark every day for about 6-8 hours + ordered more film today to carry on this week. been going for days without speaking to or seeing another person and the scary part of that is i'm sort of ok with it. but i think my days of making movies like this are numbered. i might have half the movie in the can now, maybe more, so much work left to be done but some of it might be looking really good and if we cross our fingers we might see something beautiful
june 7

at about 10:24 you can see the light of the sunrise outside my window move across the page

june 6 this week: order film for next round of chapter 3 photography... consider september trip to europe for two screenings... consider plans for japanese tour after chapter 3 is finished... wrap up plans to release wisdom teeth everywhere this summer... look for a house to buy... don't panic... possible labwork in burbank for a day... think about going to the beach... cheer up a sad friend... draw draw draw
june 5 gabe took this great picture last week... it seems the closer you look at it the less you know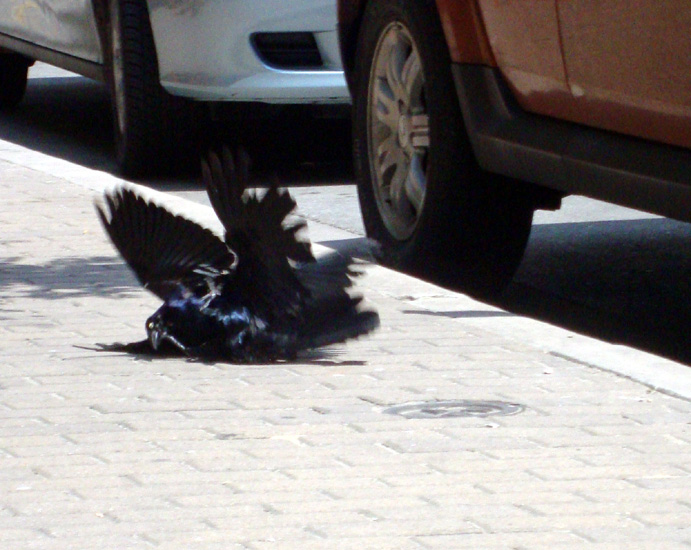 june 3 tonight i have to begin cutting out 216 little holes.
june 1 my ipod, which i've had for 5 years, is finally starting to die. the battery is shot and it won't turn on at all unless it's plugged into a wall at a very specific angle. it only can access songs intermittently, and when it does play, it will skip past several songs on its own, playing only music of its own choosing. i've already ordered a new one and its on the way. but i've been listening to the dying ipod while i work for the past few days, and i like to think it's been selecting these special songs to play in its last breath of time, as a way of saying good bye
may 30 spent the week in austin looking for a place to live... old friends, absinthe, ghosts in the fireplace
may 26 i may have written a new ending for chapter 3 on an airplane, scribbled in the open margins of a magazine. it was at first an idea for a completely unrelated new film and would be a gigantic leap to make, but i'm thinking it might work somewhat beautifully
may 23 searching for real estate is the worst thing ever. key quotes from my depressing weekend online include:
"The trampoline may convey."
"Beautiful wood & glass fron door welcome's you!!"
"it doesn't get any better than this."